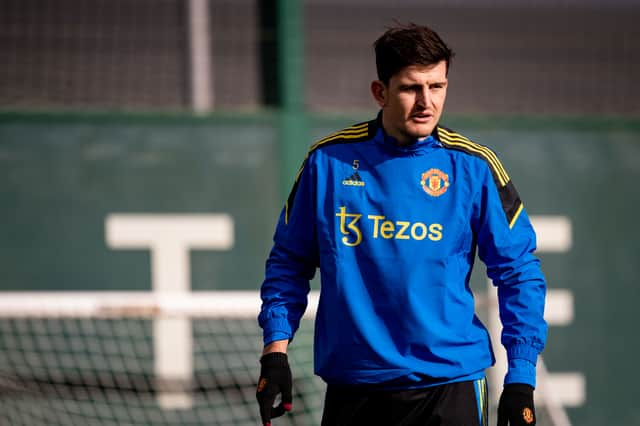 The Red Devils skipper has endured a mixed season at Old Trafford, with a lack of consistency hampering him in 2021/22.
While the centre-back performed well in recent wins over Brighton & Hove Albion and Leeds United, he put in awkward displays against Burnley and Atletico Madrid last month.
Ferdinand was asked about Maguire's form ahead of the Manchester derby, and which centre-back pairing he'd select at the Etihad
"I think there can be improvements," he continued. "I think Lindelof is a good player, a solid player. Is he going to enable you to win the league? I don't know."
Ferdinand went on to explain that Lindelof isn't the only concern among the United backline, and he feels Maguire struggles with one of the key requirements for a modern-day centre-back.
While the former United defender did say there are plenty of positives in Maguire's game, he feels that a lack of pace could impact the England international's future at the club.
"Is Maguire going to enable you to win the league? That's the question as well," said Ferdinand. "The thing about Ralf and the top teams now, the way they play, they play on the front foot and are aggressive and want to win the ball high.
"So therefore, you need defenders who can defend on the halfway line - one v one and two v two. That enables you to have more bodies in the opponent's half of the pitch. Hence why teams do that, to win the ball early and be close to the opposition goals.
"Liverpool do it tremendously well, City do it really well as well. Everyone's going that way and Ralf Rangnick's style of football is like that. Can you do that with Maguire? That's my question and that's my issue.
"His pace won't allow that, and he's always going to be looking over his shoulder. If I'm a quick attacker, I would be hanging around where Harry Maguire is.
"For all the good traits he has in his game, that is a big weakness in his game. I think long term, for Maguire, unless he can find that extra yard on the turn, it's going to be difficult for him."