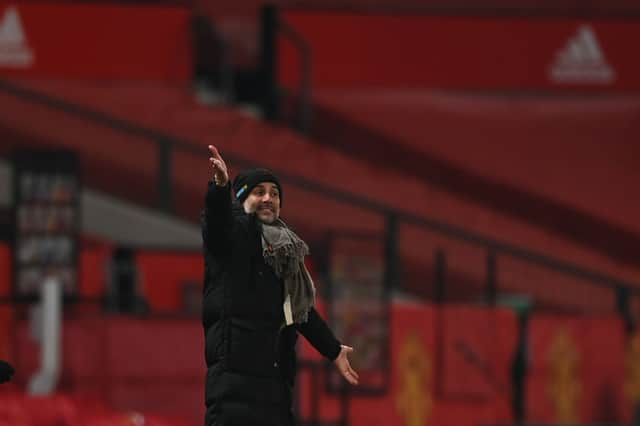 Pep Guardiola is aware of Manchester United's threats. Credit: Getty.
The Catalan locks horns with Ole Gunnar Solskjaer for a ninth time in his managerial career, when Man City will be hoping to claim the bragging rights in the Manchester derby.
But Guardiola hasn't had it all his own in the recent clashes, and he's come away victorious from just one of the last five derbies.
Man City won on their last visit in to Old Trafford, in January 2021. Credit: Getty.
Guardiola was asked about his mixed record against Solskjaer during Friday's press conference, when he also outlined what Man United's main threats are.
"Congratulations for United for winning these duals against us," he told reporters via video link. "What they have done [this season] is quite similar week by week.
"[They have] incredible physicality and a lot of talent. They have people up front with the abilities to win games by themselves. Good runners in the channels, good runners in behind, especially when Bruno Fernandes has the ball.
Bruno Fernandes is the key man according to Pep Guardiola. Credit: Getty.
"Man United… in the last century is always a good team with quality, but it is a new season and new games. [We have] similar points. We are going to prepare this afternoon and be ready for tomorrow morning."
United's attacking threat
Guardiola knows all too well how effective Man United can be on the front foot, and trying to minimise their offensive players is his chief concern for Saturday.
And the 50-year-old feels their cross-city neighbours are even more ruthless this season, with a certain Portuguese striker in their ranks.
"We did good games against them [last season], maybe not a good result except for one game last season when we drew there [in December] and it was a little bit boring," Guardiola explained.
"Man United, they were out of the Champions League, after playing five at the back in Leipzig when they [were eliminated] to the Europa League. We were not in a good moment neither and the other one [in March], they were so good up front, of course now with [Cristiano] Ronaldo they're even better.
"We know the quality they have, but in general we make a good game in the Carabao Cup, in games that we play there, even at home. We were ourselves every time we play them but sometimes win, sometimes lose."