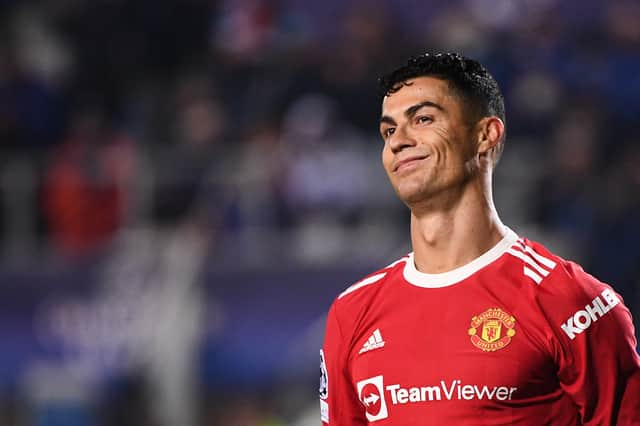 Cristiano Ronaldo is a "goalscoring machine" according to Pep Guardiola. Credit: Getty
Pep Guardiola has claimed Cristiano Ronaldo is a 'goal scoring machine' ahead of the Manchester derby on Saturday.
Cristiano Ronaldo celebrates scoring for Manchester United against Atalanta. Credit: Getty.
Guardiola said his defender will have to deal with: "A guy [Ronaldo] who is able to do unique things and is a scoring machine.
"We saw it last season and they have one of the best players in the whole history [of football]," he added.
While both sides were involved in midweek Champions League action, United played on Tuesday, and therefore head into the derby with an extra day's rest over their neighbours .
However, Guardiola insisted on Wednesday he has no worries about that. "I'm absolutely not [concerned about the gap between games]," he told reporters. "If they [United] want to play tomorrow, we will play tomorrow.
"The schedule is the schedule. Sometimes you play Tuesday, sometimes you play Friday; sometimes you play 12:30, sometimes you play 5:30."
Kyle Walker is a doubt for Manchester City with a foot injury. Credit: Getty.
The quick turnaround could come at a costly price, as Guardiola confirmed Kyle Walker may be out of contention after picking up a knock as he helped City to the brink of qualification in the Champions League.
"We are going to review the players because some of them, especially Kyle [Walker] have a kick in his foot. We are going to see tomorrow and the day after tomorrow, but I'm pretty sure that at 12:30 we'll be at Old Trafford," Guardiola said.