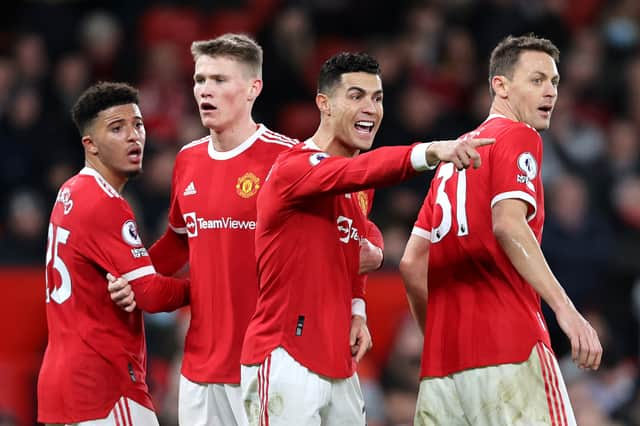 This has been a season of repetition for Manchester United. Repeatedly, they underwhelmed under Ole Gunnar Solskjaer. Repeatedly, Cristiano Ronaldo bailed them out. Repeatedly, questions have been asked about individual performances. Now, Ralf Rangnick's men are repeatedly being dominated by inferior sides.
But up against Cristiano Ronaldo and Edinson Cavani, Max Kilman should not come out on the winning side. Ruben Neves and Joao Moutinho shouldn't be able to pull the strings from midfield up against the energetic Scott McTominay and former Premier League winner Nemanja Matic. Nor should Francisco Trincao and Daniel Podence run ragged around £80m-worth of full-backs.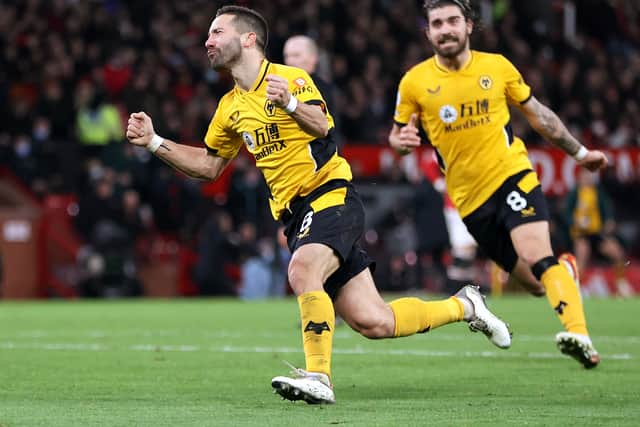 It raises so many questions about the individuals, but also the system United are using. The Red Devils set up again in the unorthodox 4-2-2-2 shape, and like the games against Norwich City and Newcastle United, it just simply didn't work.
In particular, Neves and Moutinho ran proceedings from the centre of the pitch, with McTominay and Matic overwhelmed as the wingers and wing-backs tucked inside to offer support through the middle.
Something similar happened at St James' Park a week ago, with the Magpies repeatedly cutting through the middle of Rangnick's men, and it's notable United's best performance in recent weeks came up against the two-man midfield of Burnley, perhaps the most tactically rigid side in the Premier League.
But Wolves are a much more efficient and fluid team and they dominated United in the first period. Even Rangnick addressed the issue when speaking to Sky Sports after the game: "They are playing with almost four or five central midfielders and we had problems to control that part of the pitch. When they released with their wing-backs we were also struggling and that's why we decided to change our formation.
"We didn't play well, neither individually or collectively," he added. "In the first half we had big problems to keep them away from our goal. In the second half, we changed to a different formation and we had more control on the game."
The tactical shift is where Rangnick differs from his predecessor and perhaps why things don't now feel quite as hopeless in comparison to Solskjaer's final weeks in charge. The swap to a 3-4-1-2 system did offer United more control, as did the introduction of Bruno Fernandes.
That the Portuguese midfielder was dropped for the visit of Wolves is an indicator of how alarmingly his form has dropped, and of the sacrifices Rangnick is making in order to deploy this 4-2-2-2 shape.
The extra man in the middle also served to highlight just how unproductive United had been in the first period, and Fernandes's substitution led to a 15-minute spell where the hosts really were on top, the only such stint of the game.
The No.18 smashed a shot off the crossbar in that period, from a position where he really should have scored, while Cristiano Ronaldo netted an offside goal on 68 minutes. And just as quickly as United took control of the game, it all suddenly subsided.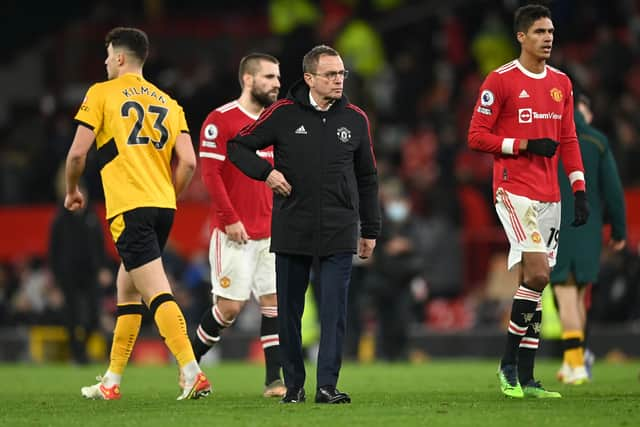 The substitution of Adama Traore helped with that, and the winger's cross ultimately led to Wolves' breakthrough moment. The ball was headed clear by Phil Jones, who was solid in his first senior game in almost two years, and fell to Moutinho on the edge of the box. The experienced midfielder composed himself and then struck the ball through a crowd of players, giving David De Gea no chance of seeing it, letting alone making a save.
It was rich reward for their dominance during a game where United managed just two shots on target, one of which was an injury-time free-kick. In the first period, Wolves had 15 efforts, the highest number on record that an opposition side has managed in an opening 45 Premier League minutes at Old Trafford.
That's how bruising this loss was, and Rangnick must make serious alterations if he's to make 4-2-2-2 work. It's been a difficult start for the German with a Covid-19 outbreak among the first team, and it seems a bit knee-jerk to suggest abandoning a formation which has served him well in the past, but it just isn't working.
There's no flexibility, no alterations, and too often United are playing in straight lines. Manchester City often use a variant of 4-2-2-2, where strikers drop deep to create passing lanes in midfield, while full-backs step into the centre, but this couldn't be further from the situation at United.
Something has to be different for the double header against Aston Villa, whether that's moving away from the tactic or finding a way to effectively educate his players on the intricacies of such a system.
It's been a mixed start for Rangnick at Old Trafford, and with a few victories it could quickly be seen as a positive one, but more losses and performances like that witnessed on Monday, and the view of United's latest tactical revolutionary will start to sour.