Marc Skinner urges Man United to make memories in WSL derby with City
A win against City eludes United but Marc Skinner wants his side to change that.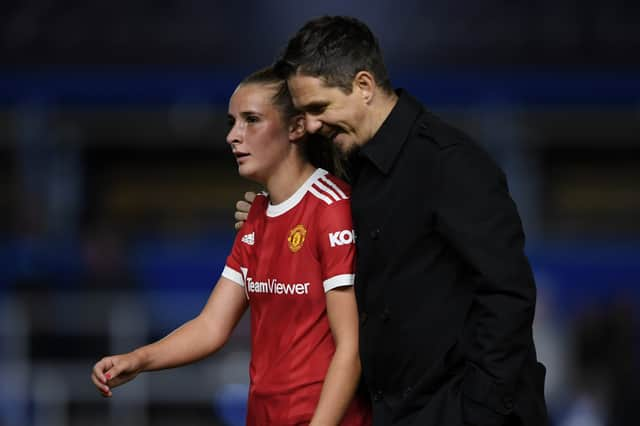 The Red Devils come into the clash six points ahead of their city rivals but a win against the Blues in the Women's Super League still eludes them.
Tomorrow's derby will be televised to a national audience on terrestrial television, giving both sets of players a platform to showcase their talent.
Skinner is calling on his players to create memories which can inspire the younger generation of supporters, which could inspire them to take up the sport.
"I want to create memories regardless of the opponent, we have to. We want young girls to turn the TV on and see wonderful players playing at the top of their game and being really exciting to watch and seeing something that they might want to envisage in their futures. Absolutely, we need to create memories."
The 38-year-old has been involved in women's football for 15-years and has seen a dramatic change from amateur status to professional, since starting out with Birmingham City in 2006.
It wasn't until September 2019 that the first professional derby between City and United took place in the Women's game.
Skinner was managing Orlando Pride in the NWSL in America at that time, which has been professionalised for a number of years, but has come back to a league which now boasts a lucrative television deal and increased media exposure.
"I've been part of women's football for a long time now where I've seen those games that just weren't covered by TV and they were memories and they are continuously, but now that we have more exposure, as coaches, I am pretty sure Gareth (Taylor) will want to do the same, we want to create moments where it takes people's breath away.
"We would love to create derby moments, of course, I'd love to guarantee that we do that every time that we play just so that we can have a narrative of spectacular every time. We want to do that, we will try to do that against Manchester City."
After succeeding Casey Stoney in late July, the Englishman has promised supporters that he fully understands the rivalry between City ahead of an important match.
The derby itself is still in its infancy in the women's game but as the two continue to play each other more at the highest level the rivalry will intensify given what is seen in the men's game.
"I think you have to absorb yourself into that culture and be part of it. While I'm Manchester United manager, I'm going to bleed absolute red so for us, I have to understand what it means to the fans and what it means to be part of a derby of this magnitude.
"It's going to be something exciting but also as a coach, you have to love the emotion but also stay focused, that's important because you have to stay focused to make quick decisions. I want the fans to be the energy in this and we can be the focus and control."