As well as providing an update on Maguire, the Dutchman also spoke about how pre-season preparations are going in general, how impressed he has been with the youth academy set up at Old Trafford and the latest news on Cristiano Ronaldo's future with the club.
Here are some selected quotes from the former Ajax boss:
"He is available" - Maguire returns from injury absence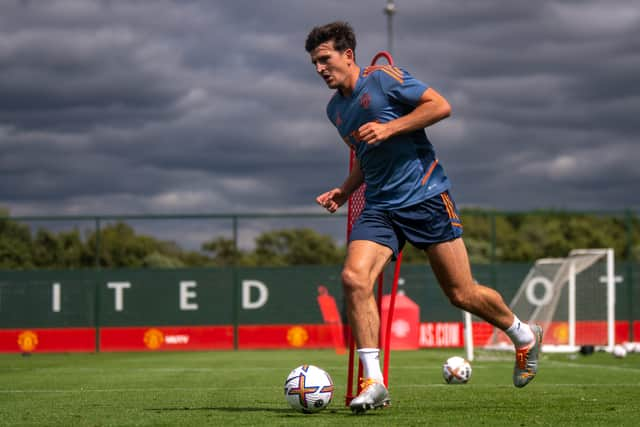 Club captain Harry Maguire missed Tuesday's 4-0 win over Liverpool in Thailand with an unspecified knock which also kept him out of training temporarily.
However, ten Hag confirmed that the defender is back on the field and will feature in Friday's match with Melbourne Victory.
He said: "Yes, tomorrow he is available. We will see but I think he can play half a game."
"A symbol of the Academy of Manchester United" - ten Hag praises Rashford and new upcoming stars
Zidane Iqbal was one of the United academy stars who impressed against Liverpool on Tuesday and, when asked about the 19-year old midfielder, the Dutchman praised both the club's youth set up and academy graduate Marcus Rashford.
He said: "I have said it before, Manchester United has huge potential. Really good players, experienced players but also a lot of young guys, young boys who have a lot of potential.
"We have to get the potential out so now we have to work really hard.
"Man United is famous for it and Marcus Rashford here is I think a symbol of the Academy of Manchester United and more upcoming talents who come after."
Donny van de Beek, Jadon Sancho and Eric Bailly
The United head coach was also asked where he sees Donny van de Beek and Jadon Sancho's best positions and whether Eric Bailly's performance against Liverpool has given him a "selection headache".
On whether he sees van de Beek as an attacking or sitting midfielder, he said: "He can do both. I know that from the past. But his best position, his best capability is in the box of the opponent.
"Playing short behind the striker, he has a really good smell of being in the right position."
On if he prefers Jadon Sancho playing on the right or the left after his impressive performance on Tuesday, he said: "I think we have a good left side but I think you see against Liverpool that we also have attacks on the right side and it was good to see it because you want to have balance.
"If you are only on one side it is quite predictable so we want that to develop over two sides but also in the middle and from everywhere."
Finally, on Eric Bailly he said: "I am happy. We need a full squad for the coming season with a lot of games.
"In the middle there's a World Cup so we need a really full squad with a lot of competition between the players so we push each other to a higher level."
Cristiano Ronaldo's Manchester United future
The press conference ended with a brief update on Cristiano Ronaldo's future at Old Trafford with ten Hag saying: "We made a statement and nothing has changed."