Manchester United fans' panel: supporters choose their top XI- and who they'd put on the bench
The answer was unequivocal from the Red Devils we asked, with one key position splitting the fanbase.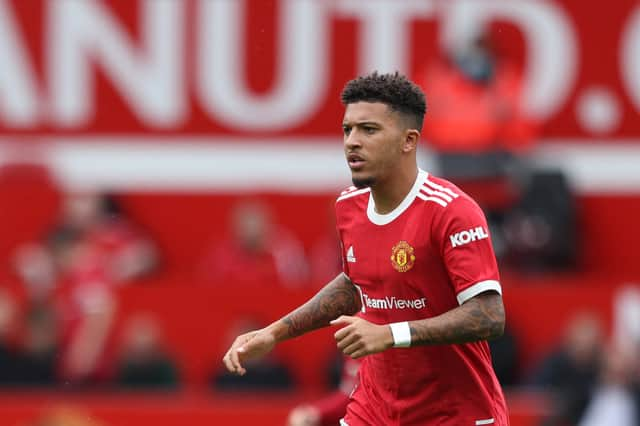 Jadon Sancho. Credit: Getty.
Manchester United certainly aren't stuck for options when it comes to selecting their starting XI, even with the likes of Axel Tuanzebe, Brandon Williams, Andreas Pereira and Daniel James leaving in the latter stages of the window.
Ole Gunnar Solskjaer has regularly stated he would like two options for every position on the pitch, but the Norwegian has even greater depth now than last season.
With that in mind, we asked a panel of Red Devils supporters which starting XI they'd select if they were in Solskjaer's shoes.
Overall we asked 11 fans to choose their teams, while also considering positions and formations.
We also outlined that this was the side they'd ideally choose throughout the season, not for the upcoming home game against Newcastle United next weekend.
Dean Henderson may have ended last season as the club's first choice between the sticks, but only one of the fans surveyed selected him in nets.
It was David de Gea, who put in a superb performance at Molineux last Sunday, who claimed the starting spot for the vast majority of those questioned.
The result was clear cut, with every single fan choosing a back four of Aaron Wan-Bissaka, Raphael Varane, Harry Maguire and Luke Shaw.
The quartet, played against Wolverhampton Wanderers and therefore seems to be Solskjaer's first choice as well.
It means that Victor Lindelof, who played 45 games last season, fails to make the cut, as do Diogo Dalot, Eric Bailly and Alex Telles.
Varane's in after his impressive debut. Credit: Getty.
Fred hasn't enjoyed the best start to the season and this is reflected by our fans' selections. The Brazilian was only chosen once, the same number as Donny van Beek.
It was Paul Pogba's name that was selected repeatedly - in fact, every would-be manager saved a spot for the Frenchman, with most opting to play him in the centre of the park.
Unsurprisingly, Bruno Fernandes was also chosen by every single person, with the 26-year-old mainly deployed in the No.10 role, although on occasion he was selected in a slightly deeper role.
Nemanja Matic, Jesse Lingard, Juan Mata and Amad weren't included by any of those asked.
Jesse Lingard playing for Manchester United. Credit: Getty
This was the area of the pitch that really divided opinion, although deadline-day transfer Cristiano Ronaldo made everyone's XI, meaning Edinson Cavani and Anthony Martial weren't selected by a single participant in the survey.
After his electric start to the season, Mason Greenwood made almost every team and was chosen exclusively front the ring wing.
But it was on the opposite flank that views were split between offering Jadon Sancho or Marcus Rashford a starting berth. Ultimately, 55% respectively voted for each of the players, meaning they're tied for a spot in the team.
Only two sides chose both England internationals from the off, while the pair were both excluded in just one team, where the more defensive option of Fred was preferred.
Fans' preferred XI: De Gea, Wan-Bissaka, Varane, Maguire, Shaw, McTominay, Pogba, Greenwood, Fernandes, Sancho/Rashford, Ronaldo.
Marcus Rashford. Credit: Getty.
It's hard to argue with what the supporters have selected, and personally I'd probably just side for Sancho over Rashford.
However, it comes as something of a surprise that Henderson was only selected once. The youth graduate would make my team over De Gea, and perhaps a few fans have overlooked just how poor his form has been over the past two seasons.