Man Utd vow to 'support' Cristiano Ronaldo following FA charge in relation to Everton incident
The FA has charged the Manchester United star following an alleged incident with a fan at Goodison Park.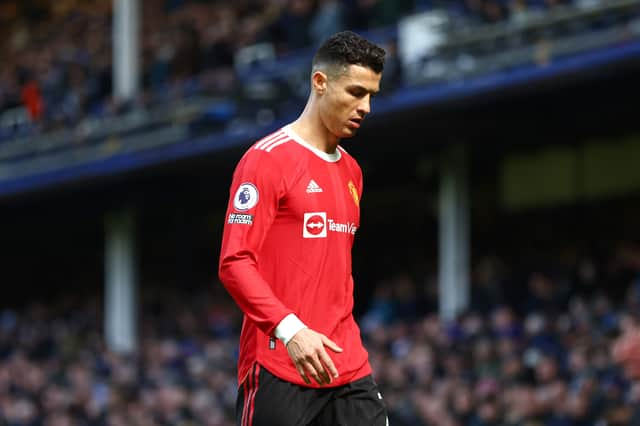 Cristiano Ronaldo has been charged by The FA. Credit: Getty.
Manchester United have said they will support Cristiano Ronaldo after he was charged by The FA on Friday following an incident involving a fan at Goodison Park last season.
The forward has now been charged by The FA, who said in a statement: "Cristiano Ronaldo has been charged with a breach of FA Rule E3 for an incident that took place after Manchester United FC's Premier League match against Everton FC on Saturday 9 April 2022.
"It is alleged that the forward's conduct after the final whistle was improper and/or violent."
United have responded with a statement saying: "We note the FA announcement in relation to Cristiano Ronaldo. We will be supporting the player in response to the charge."
Ronaldo appeared frustrated as he made his way off the pitch in April. Credit: Getty.
The incident was investigated by Merseyside Police who cautioned Ronaldo in August. "We can confirm that a 37-year-old man voluntarily attended and was interviewed under caution in relation to an allegation of assault and criminal damage," they said at the time.
"The allegation relates to an incident following the Everton v Manchester United football match at Goodison Park on Saturday 9 April. The matter has been dealt with by way of conditional caution. The matter has now concluded."
Ronaldo also apologised at the time and invited the Everton fan to attend a game at Old Trafford.
"I would like to apologize for my outburst and, if possible, I would like to invite this supporter to watch a game at Old Trafford as a sign of fair-play and sportsmanship," he wrote on social media in April.