When Manchester United were demolished 4-0 by Brentford on 13 August, any suggestion their squad ranked among the best in world football would have been derisively dismissed.
Yet just under four months later, the Red Devils can proudly boast of having 12 players at the quarter-finals of the World Cup, the most of any Premier League club, one more than Manchester City - a feat in itself given how many world-class stars call the Etihad home - with the next highest being six from Liverpool, Arsenal, Chelsea and Tottenham Hotspur respectively.
And while a few have played bit-part roles in Qatar, United's star men have tended to take centre stage for their countries. Harry Maguire has demonstrated the sort of form that led the Red Devils to pay over £80m for his services, while no player has scored more goals at the tournament than Marcus Rashford.
Bruno Fernandes has been one of the competition's standout stars, Diogo Dalot has ousted Joao Cancelo from the Portugal starting XI, Casemiro has played a pivotal role for Brazil, while Raphael Varane, Luke Shaw and Facundo Pellisrti have all impressed on the biggest stage.
Indeed, a glance at the youthful United squad which flew to Spain, emphasised how many of Erik ten Hag's first-team regulars are unavailable. Arguably only David de Gea and Anthony Martial from his strongest XI travelled for the training camp and double dose of friendlies, making Ten Hag's scathing remarks about Wednesday's performance against Cadiz feel a tad excessive.
But the success of United's stars at the World Cup highlights one undeniable point: Ten Hag has an abundance of elite-level talent in this United squad. Remarkably, most have been inherited from the previous regime, which speaks to how badly the team were mishandled last season under Ole Gunnar Solskjaer and Ralf Rangnick.
The toxicity that engulfed the club, fans and players last campaign seeped into the early weeks of this term, as evidenced by those seismic losses against Brighton & Hove Albion and Brentford, and Ten Hag's ability to shift that sentiment so quickly deserves real kudos. Not to say that United are now devoid of any blunders, as demonstrated by the inability to take top spot in their Europa League group and loss at Villa Park, but they now feel much more like stumbles than the catastrophes they would have been deemed last season.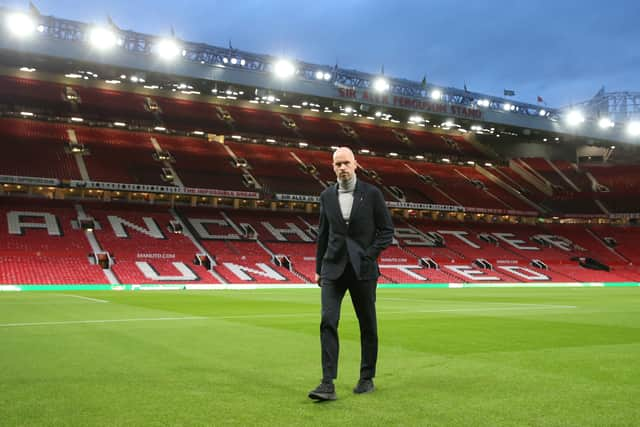 Already, Ten Hag's United side is taking shape, with Varane and Lisandro Martinez, and Casemiro and Christian Eriksen forming reliable partnerships in the middle, Diogo Dalot and Luke Shaw improving in the full-back areas, and the prevalence of direct, rapid wingers in the advanced areas. Getting Martial back to full fitness will also be key for the second stage of the season, while releasing the team from the shackles imposed by Ronaldo can only be a plus.
Another positive for United, as the resumption of club football edges closer, is that the league's top sides feel collectively at their weakest point since Leicester City's title win in 2016. Liverpool have been a shell of the side which dazzled last season, Chelsea have stuttered under Thomas Tuchel and now Graham Potter, Spurs consistently underwhelm, while there's uncertainty whether Newcastle United can maintain their impressive levels into the second half of the season.
It creates the perfect landscape for United to seize control, continue evolving and perhaps even take third spot in the league, while they're also still alive in three cup competitions. Under the guidance of an astute manager, with high-calibre players, there is a growing sense of optimism among supporters that a season which started under such a cloud could ultimately end in triumph.