Man Utd midfielder praises fans following record attendance
Ella Toone hopes Manchester United FA Cup final performance made fans proud despite their Wembley heartache.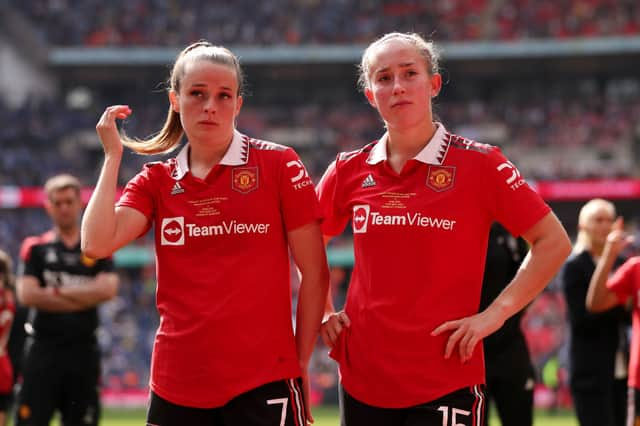 "I'm very disappointed. I felt we dominated large parts of the game so to not come away with a win is hard" said the midfielder.
"I'm very proud of the team and we're we've come from but we want to win and we've gone very close to doing it, so it is difficult to take. We'll definitely build on this. We've come so close, there's more hunger now to go again next year.
"For us now the focus is the league and we want to finish on a high. We want six points from our last two remaining games, the mindset switches and it's a new week. You can't dwell on this game too much. We'll look at it, see what we did well and what things we can improve on. It is about the next game now and that is Man City. We want to go there and get three points" added Toone.
The game smashed the attendance world record for a women's domestic match with the United heard throughout and Toone, a born and bred Manchester United fan herself, offered a passionate response when asked about her thoughts on the support the club received at Wembley.
"I've been at United five years now and started when there was no women's team and we had that little crowd that followed us up and down the country to what came out at Wembley today - an unbelieveable crowd and I hope we made them proud. They've been a massive part of our journey and we can't thank them enough.
"It (the attendance) shows how far the game has come but there's nothing stopping us from growing it further. Today has been amazing, the fans are amazing. We heard them loud and proud like we do every other game. It's an unbelieveable journey we are on."