Man Utd complete signing of Everton and Lionesses defender
Manchester United have completed their second signing of the day with the purchase of an Everton stalwart.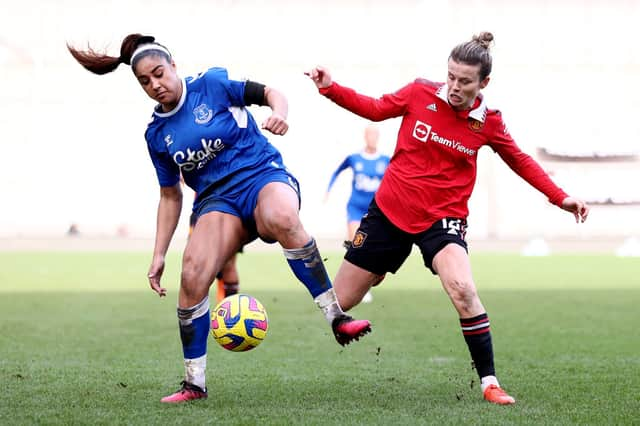 Manchester United have completed the signing of defender Gabby George from Everton for an undisclosed fee.
"It's been a surreal day. As a massive Manchester United fan, I'm buzzing to be here" said the 26-year-old defender, who has been capped twice by the Lionesses.
"It's the club I've supported since I was born, and I'm delighted to come back. This club means a lot to me and my family, and it's where we want to be" added the defender.
George, who was the first Everton Women's player to sign a professional contract when she agreed a deal with the club in 2017, joins Manchester United after making 101 top-flight league appearances for the Blues.
Head coach Mark Skinner was equally as delighted to confirm the signing of the versatile defender, adding: "We are delighted to welcome Gabby back to Manchester United, after seeing her flourish during her time away at Everton. Gabby's versatility across the defensive line, will further increase the competitiveness of our team and she will no doubt play an important part throughout this busy season."
On leaving Merseyside, George said: "I would like to thank everyone at Everton for my incredible and special time at the Club.
"I joined as a teenager. Since then, I have played alongside world-class players, made friends for life, and played in some truly special occasions for this football club.
"I wouldn't be the player and person I am today if it wasn't for Everton. I will always be incredibly grateful for that.
The Red Devils also confirmed another more departure earlier this afternoon after Scottish striker Martha Thomas completed a permanent move to fellow WSL side Tottenham Hotspur earlier this afternoon.