Man Utd boss urges forward to be 'the player Manchester United need' after Old Trafford brace
Manchester United boss Marc Skinner opened up the on midweek conversation that inspired an "excellent" second half display from forward Lucia Garcia in the 4-0 win over West Ham United.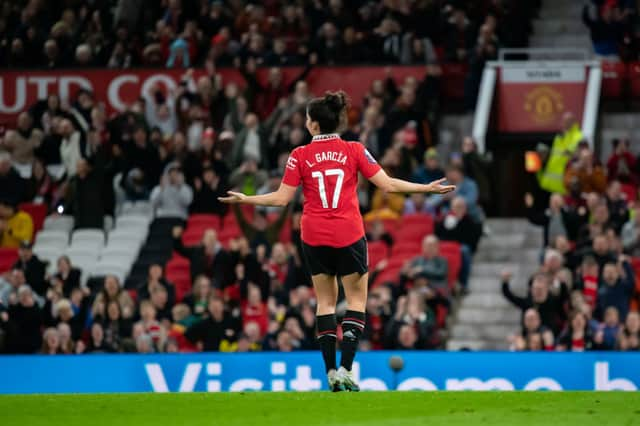 The Spanish forward was introduced to the Old Trafford crowd in the 55th minute as a substitute for Nikita Parris and put in her best performance in a Manchester United shirt, scoring twice in a rampant 4-0 win.
"The reason we signed Lucia is because I believe she can do that for 90 minutes and she's just taken a little bit of time to adapt to the league" said Skinner.
"When I talk about Red Devil energy, she is it and it is her. The way she moves, the way she presses - the touch for her goal is beautiful but it is the way she invades the space behind the shoulder, that is exactly how I see it. Me and Lucia had a meeting this week and I reviewed her game against Lewes where I thought she didn't perform anywhere near her ability but her energy to want to get back on the ball - so we had a good honest conversation and she was great.
"She was excellent today and she needs to keep it up. That's now a half of footage I have to show her to say this is the Lucia Garcia that Manchester United need."
Skinner was also full of praise for his captain Katie Zelem citing the England midfielder's unique ability to turn up on the big stage after made it three goals in three games at Old Trafford.
"She has a big game brain. This girl sees the game two steps ahead, and I've said it a lot. For what her legs won't allow her to carry her brain carries her way beyond" said the United boss.
"She see stages and pictures and sometimes when people don't move to things she's seeing that maybe stumbles her but that's why she is the captain. She sees the game and produces the game plan with us. She helps gel our team.
"I thought she was excellent. I asked her in the week to be more consistent, I felt she had given away a few balls and overthinking - just keep the rhythm of the game and I thought she was excellent at that today.
"She's not underrated by me. So she plays alot. I think she gets unnecessary attention at times - or not enough - but the reality is that's okay. She gets it, she understands it. She has a real good head on her shoulder. She comes from a great family background. I'm proud to have her".
The win moves Manchester United back to the top of the Women's Super League as they continue their pursuit for Champions League for qualification - though Chelsea could overtake them with a win at Manchester City today.