Man Utd forward praises squad togetherness and reveals why head coach makes them feel "unstoppable"
Manchester United forward Rachel Williams has revealed why head coach Marc Skinner makes them feel "unstoppable" ahead of their return to Old Trafford.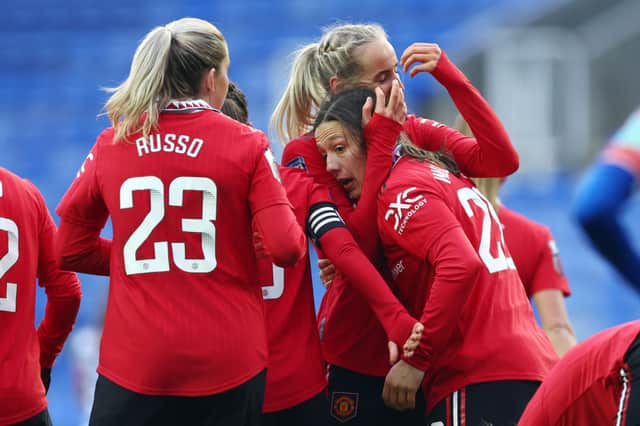 Williams has played a vital role to a squad that has shown a marked improvement in the 22/23 season and pinpointed the togetherness of the side as a key reason for their progress ahead of their clash with West Ham United at Old Trafford this weekend.
The 35-year-old forward is the most experienced player in Skinner's squad but admitted her time at Manchester United has made her feel like "a 15 year old in the park" and revealed the qualities both Skinner and her team mates provide that she hopes will ensure the side lift major trophies this year.
"A big one for me with this squad is what they do together off the pitch. It is probably the most sociable squad I've ever been in." said the striker.
"Not that we forget what we're doing on the pitch or where we're going this year but I've noticed a real importance with this squad. For example, we do a 'fun Friday' - pick something, dress up, do whatever and it is those little things I feel that have made this squad probably one of the best, up there for that for that social side of things.
"To have a social side doesn't always mean you're go out for a meal or you go out to party, it is the togetherness you bring in that, knowing someone's body language, that you can put an arm around them and knowing where you fit in that little friendship group. For me, the importance I've noticed this year is the bonding done off the pitch".
Williams, who played under Skinner at Birmingham City previously, also gave praise to the United boss and his staff, disclosing which key skills are helping the side to push for major honours.
"It's his passion. You see his passion come through with everything that he believes in. He wants us to believe that we are going to achieve together but a lot of credit has to go the rest of his backroom staff. They're on that level with him and they deliver their detail and their job every week.
"As well as we're a team doing what we're doing, Marc has his team as well. I think he stands up there and I actually believe in what he says and what he knows we're capable of achieving. When you get a manager that makes you feel like you're unstoppable, I think it is a good place to be in and we could go anywhere we want to go this season. To believe in him and what he wants is massive".