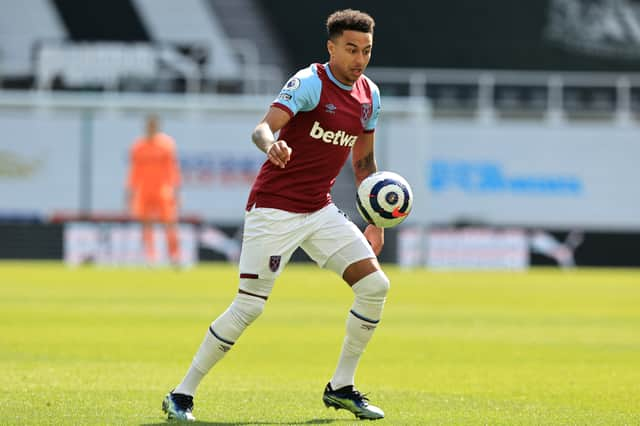 Jesse Lingard playing for West Ham. Credit: Getty.
Jesse Lingard's name has never been too far away from the gossip columns this summer, and it's no surprise either given how the midfielder fared on loan at West Ham United last season.
The 28-year-old scored nine goals from just 16 games at the London Stadium, while he also registered five assists. It's a run of form that has moved him from a marginalised, overlooked player at Manchester United 12 months ago, to someone who is very much in Ole Gunnar Solskjaer's plans and is also coveted by a host of Premier League clubs.
Lingard has been linked with a return to the Hammers as well as moves to Arsenal, Everton and Aston Villa, while featuring prominently during United's pre-season friendlies, before being ruled out for Saturday's season opener after contracting Covid-19.
Lingard enjoyed a great spell in London with former United manager David Moyes. Credit: Getty.
But what now for Lingard that Bruno Fernandes, Paul Pogba and co are all back in town? Is there a future for the charismatic academy graduate in this star-studded Red Devils squad?
Sadly, probably not, and while fans may want Lingard to stick around in this vibrant city, it might be best for the player, United and West Ham if he were to return to the Hammers on a permanent deal - here's why.
Why would a move best suit United?
Lingard proved last season just how good he can be when given a regular run in the side, but with United's quality and depth will that ever be a possibility?
With three attacking midfield options in Solskjaer's side, Fernandes, Pogba and Jadon Sancho will almost certainly be the Norwegian's first choices and, at best, Lingard would be a rotation player.
It's also worth remembering just how patchy his United form has been in recent years, so much so that he didn't play a single minute of league football in the first half of last season.
Is there a spot for Lingard with all United's stars? Credit: Getty.
It just hasn't worked for Lingard, and United would be best cashing in on their No.14 before he potentially leaves next summer on a free transfer.
The Red Devils have been continuously linked with a move for another midfielder and any funds generated from Lingard's departure could be reinvested on a new addition.
Why would a move best suit Lingard?
The midfielder has long passed the stage of 'having potential' and now needs to show his undoubted ability. He turns 30 in just 16 months and should not overlook just how short a player's career can be.
Lingard's showings were so outstanding for the Hammers last season he actually forced his way back into the England squad, something he will struggle to recreate without playing regular football.
West Ham's counter-attacking style also clearly suits Lingard much more so than United's, with the Red Devils often forced to break down compact defences.
Arsenal, Villa and Everton have all been mooted as potential new homes for Lingard, but none of the aforementioned clubs are playing in Europe this season, something which West Ham can offer.
There's also the camaraderie the Warrington winger so clearly enjoyed in East London - we all remember that questionable group dance move at the end of 2020/21, while he fully embraced the London lifestyle and seemed to be a popular figure among West Ham fans.
Why would a move best suit West Ham?
For David Moyes and his coaching staff this is an absolute no-brainer, as coach Stuart Pearce revealed on Monday. The Hammers would clearly be signing an extremely talented player who should fit in seamlessly after his time there last season.
West Ham fans aren't always the happiest bunch of supporters in the land, but signing Lingard could placate those who remain underwhelmed with the club's limited transfer policy this summer.
They also need a deeper pool of players this term due to their involvement in the Europa League, a competition Lingard knows all too well from his time at Old Trafford.