'I must admit I was surprised' - Rangnick gives reaction to Man Utd's 1-0 win over Crystal Palace
The experienced coach oversaw a comfortable victory during his first game as Manchester United manager.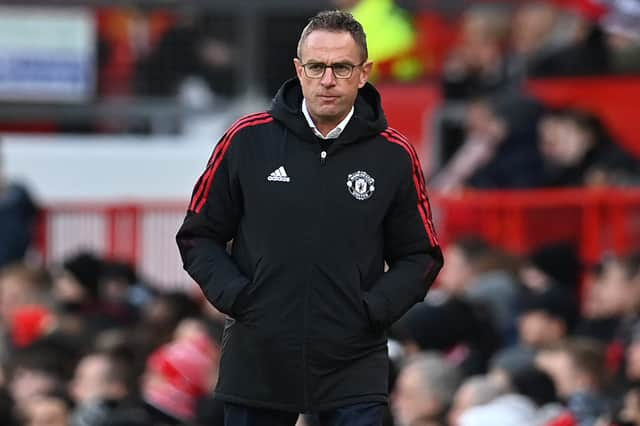 Ralf Rangnick picked up a first win as Manchester United manager. Credit: Getty.
Especially in the first half, United forced the Eagles into mistakes at the back and their pressing was markedly improved from the final few games under Ole Gunnar Solskjaer.
In fact, the Red Devils won possession in the final third on 12 occasions at Old Trafford, the highest total in a league game since Sir Alex Ferguson's departure in 2013.
It's a winning start for Rangnick at United. Credit: Getty.
Speaking after the game, Rangnick expressed how delighted he was with his side's showing on Sunday.
"Overall I am more than happy," he said in the post-match press conference. "I was positively surprised by the physical state and intensity. The first half-hour was amazing, I felt it was extremely high-tempo, high intensity, always on the front foot, the only thing that was missing in the first half-hour was not scoring one or two, if not three goals.
"But for me it was clear you cannot play the whole game, 90 minutes, on this kind of level of intensity. But even after that we had control of the game. Second half, we started again well and, in the end, we deserved to win.
"I'm more than happy with a clean sheet, a beautiful goal with his weak right foot from Fred. It was about gaining control and we had control most of the time in the game.
"Maybe the last three or four minutes, of course they took all the risk they could, we had to defend corner kicks and free-kicks but we did that in a very brave way. Harry [Maguire] being injured, coming back again. As I said, it was a perfect first game for us to play."
Fred's goal proved to be the difference between the sides. Credit: Getty.
Making a quick impact
Having presided over just one training session since becoming interim manager, the Red Devils' improvement is even more impressive.
"I must admit I was surprised, because not only did we play Thursday, a late kick-off, we had two days less to recover compared to Crystal Palace," explained the former RB Leipzig coach.
"We had not even a full training session yesterday because it was 45 minutes, it was pouring. It was not just Manchester weather, it was disgusting, it was heavy, it was raining, windy, so it was almost impossible to train in a concentrated and focused manner, but they still did it.
"Those 45 minutes on the pitch were important and we explained to them how we want to play, which manner we want to play and the rest was video footage, a lot of personal conversations with players, individually, in groups, explaining to them how we want to play. I have to admit I didn't expect them to play in that level after such a short time."
Keeping the same XI
After all the talk about Rangnick's revolution, the 63-year-old gave something of a surprise pre-match when he selected the same team that Michael Carrick had selected against Arsenal on Thursday.
Explaining that decision, and the reason behind his unorthodox 4-2-2-2 shape, the United boss said:"For me, it seemed logical not to change too many positions or too many things after the win against Arsenal. In the end, everyone was fully fit, nobody was injured, fully recovered, I decided to start with the same starting XI.
"For me, the question was how do we get pressure on the ball, how do we get control? Then I decided to play in a 4-2-2-2 with two strikers, not Cristiano [Ronaldo] alone up front, together with Marcus [Rashford], using pace for vertical balls.
"At the same time, with Jadon [Sancho] and Bruno [Fernandes] on the two 10 positions, for the rest [of the players] it was the same. We had enough space with Jadon and Bruno in those 10 positions for our full-backs to always play forward and ask for the ball on the wing.
So they both played almost like wing-backs, especially in the first-half, Alex [Telles] and Diogo [Dalot] , did extremely well offensively and that's the reason I decided to play with 4-2-2-2. I'm a big fan of every player playing in his best possible position.
"The most challenging, demanding positions in that formation are the two 10s but I still think, especially when Palace was in possession, Bruno and Jadon did well. It was a little bit new but not that new, it doesn't make that much difference if Jadon plays a little further inside or outside but defensively they both did well."