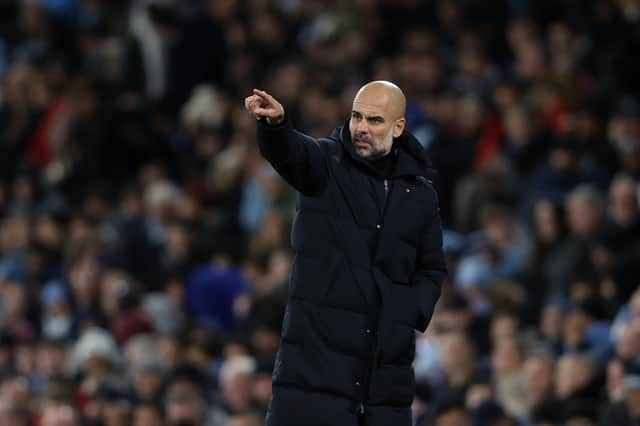 Pep Guardiola wasn't happy after Manchester City's win over Club Brugge. Credit: Getty.
Pep Guardiola was claimed this week's Manchester derby is the "most important game ever" during a irritable post-match press conference on Wednesday night.
However, the three points didn't put the Catalan in as an amiable mood as would be expected. Instead, the 50-year-old gave several short responses to questions in the post-match briefing and even swore during a passionate rant.
Guardiola seemed to take umbrage with the media reaction to his comments earlier this week that the Club Brugge match was the bigger of the two games this week, although with the Champions League encounter now in the past, Man City's focus appears very much on Saturday's Manchester derby.
Pep Guardiola's men are top of Group A after four games. Credit: Getty.
All eyes on Old Trafford
Speaking to the press on Wednesday, the ex-Barcelona boss said: "The people taking the p**s [out of] me for the fact I say today is more important than United. Right now, the most important game ever is Man United.
"So maybe people [who don't] have the ability to think about the next one, maybe forget what you have to say. The interview you are saying right now is less important than the interview I am going to do next Friday. But for me, today was really important because in the Premier League we have 28 games left, 28.
"Here [in the Champions League] there are just six games to play, to qualify. Just three, now two [left]. This [game], like Brugge was incredibly important. People say: 'no, Pep, it's bulls***'. No, it's not. It was so important today and we won it and that's why we are in a good position. We need one point to qualify and in February hopefully we can be in the last-16 with the best teams in Europe."
Man City were superb for spells against Club Brugge. Credit: Getty.
One game at a time
Guardiola repeated his stance later in the press conference and stated that media focus on the Manchester derby prior to the Brugge game irritated him.
"I don't know if you were able to see West Ham away in the Carabao Cup, but I prepared the game like you cannot imagine to win," he said via video link. "We played like a great team, we created a lot of chances, we were much better than them and we lost on penalties.
"Football is football. The only thing you can get wrong in football is to lose a game. Wow, how complicated is our life? So every game, my focus is always the next one. I never think about the second one. I know for Sky, the game against United is the most important, and the big advertising.
"We are going to create a good environment for the game and we are pleased to be there. But before that game today, you cannot imagine how important it was and that's why we prepared as well as possible to win it. We had two fantastic games and now, of course, we are going to try and think about Man United.
Man City 'don't have to be helped'
In a post-match interview with BT Sport, Guardiola said: "When you are Man City nobody helps you."
Very few journalists in the press box seemed to know what the manager meant by those comments, and were none the wiser after his tetchy response when asked to clarify those remarks.
"Don't misunderstand me," said Guardiola. "What I'm saying is what we have done this year, we deserved and we did it for ourselves and that is so good. I'm very pleased.
Pep Guardiola. Credit: Getty.
"We don't have to be helped, absolutely not," he continued. "We have to do it for ourselves. Since three or four years ago, many times I have said this. We have to do it for ourselves and that's why it's nice.
"We lost against Crystal Palace [on Saturday] and we deserved it because Crystal Palace was better. I'm saying for 100 points and 98 points and all the titles we won, and all the little details happened is because we did it. We did it! I was in other clubs and know what it means to be a higher. So that's what is good.
"[I'm] more than pleased with what we have done with the five, six years together because we were there all the time. All the credit we have done is for ourselves and I know exactly what I'm talking about."