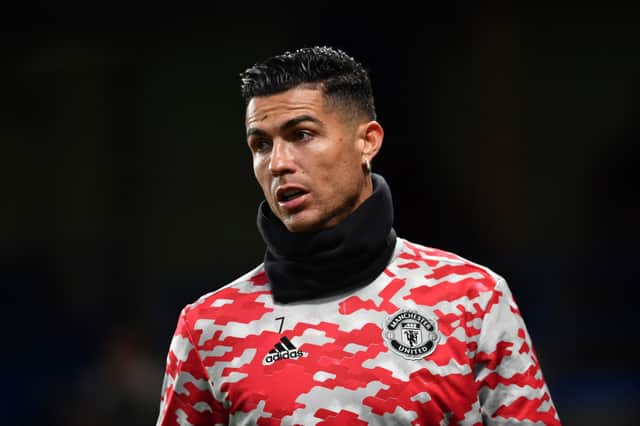 Cristiano Ronaldo was on the bench for Manchester United's draw with Chelsea. Credit: Getty.
Rio Ferdinand has rejected suggestions that Manchester United's manager Ralf Rangnick will struggle to find a place for Cristiano Ronaldo in his team.
However, Ferdinand highlighted Rangnick's treatment of another former Real Madrid legend as proof Ronaldo will be incorporated into the United team.
Ferdinand shared a dressing room with Ronaldo for six years. Credit: Getty.
Rangnick managed Raul for a spell during the autumn of years of the Spaniard's distinguished career, and regularly found a spot in his side for a more experienced striker.
"He only stopped coaching at Schalke for a period because he was under stress," Ferdinand told the Vibe with Five podcast.
"All this talk that he can't manage Cristiano Ronaldo, he had a 35-year-old Raul [at Schalke]. A genuine superstar, world-class player, big personality and managed him within that team. He performed. It's a myth.
Ralf Rangnick and Raul. Credit: Getty.
"It's still an ego, it's still a character, it's a personality that you've got to manage properly so he knows how to do it, he's done it.
"All this: 'he's not going to play Ronaldo'... he played a 35-year-old Raul. Ronaldo, I don't think, is the issue. I think he'll find a way that Ronaldo will be able to fit in his team."
Ferdinand's jibe at Jamie Carragher
Ferdinand also used his latest podcast to have a dig at ex-England team-mate Jamie Carragher, after the latter had an on-air argument with Roy Keane about Ronaldo's place in the United team during Sky Sports' coverage of United's 1-1 draw with Chelsea on Sunday.
Carragher contested that Ronaldo's signing hadn't moved United closer to winning a league title, something Ferdinand took umbrage with.
"He doesn't know what it means, he doesn't know how to do it, he's never navigated a team through it to that point to win a league," said the former United centre-back
"So I find it very difficult when he speaks with such conviction about winning leagues."
But Carragher responded on Twitter claiming Ferdinand didn't win any trophies without Sir Alex Ferguson and tried to force a move to rivals Chelsea later in his career.
He tweeted: "Not talking titles but the deal for Ronaldo to Man Utd which you arranged. No PL for me but Sky like my opinions! No trophies in your career without AF (Sir Alex Ferguson) & when you stopped winning PL at MU you tried to move to Chelsea so please stop giving it the big MU fan one!"