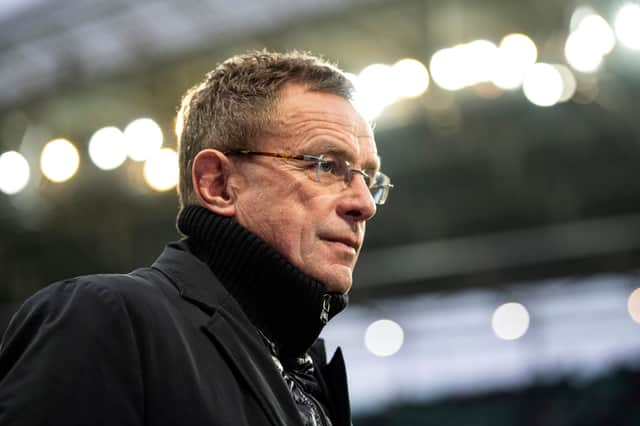 Manchester United have confirmed the appointment of Ralf Rangnick as their new interim manager.
In an official statement on Monday, the club said: "Manchester United is delighted to announce the appointment of Ralf Rangnick as Interim Manager until the end of the season, subject to work visa requirements.
"Following this period, Ralf and the club have agreed that he will continue in a consultancy role for a further two years."
John Murtough, Manchester United Football Director, said:"Ralf is one of the most respected coaches and innovators in European football. He was our number one candidate for Interim Manager, reflecting the invaluable leadership and technical skills he will bring from almost four decades of experience in management and coaching. Everyone at the club is looking forward to working with him during the season ahead, and then for a further two years in his advisory role."
Ralf Rangnick said: "I am excited to be joining Manchester United and focused on making this a successful season for the club. The squad is full of talent and has a great balance of youth and experience. All my efforts for the next six months will be on helping these players fulfil their potential, both individually and, most importantly, as a team. Beyond that I look forward to supporting the club's longer-term goals on a consultancy basis."
Michael Carrick will remain in charge of the first team until Ralf's work visa is finalised.
The club said it wishes to place on record its thanks to Lokomotiv Moscow for their co-operation in the process of bringing Ralf to Manchester United.
When is Rangnick's first game in charge?
It seems likely that Carrick will be in charge of the team for Thursday's Premier League clash with Arsenal at Old Trafford, meaning Rangnick could be in the dugout for the following game.
That match comes at home to Crystal Palace on Sunday and is a 2pm kick-off. The game won't be shown live on TV in the UK.
Rangnick's coaching philosophy
We spoke to football journalist and author, Karan Tejwani, last week and he explained exactly what Ragnick will bring to Old Trafford.
"He tries to set out his 'three Cs' which are capital, concept and competence," Karan explained.
"The capital has to be internal club finances. Basically, the club has to be self-sufficient. They want to develop their own players, buy them for cheap and sell them on for big fees.
"The concept comes from the playing style, which includes player mentality, play attacking, high-pressing football. So if you lose the ball you have to win it back within a certain period of time, mostly six to eight seconds, and you have to do something with the ball in 10 seconds, such as make a progresive movement or a pass.
"The competence comes from the players themselves; the players have to show the desire to become better. They have to show the desire to reach the next stage of their careers, and they have to want to make the team and the players around them better.
"The 'three Cs' is a very intricate method, a very simple method on paper, but it's difficult to achieve, like most things in football."