Cristiano Ronaldo on his Man Utd future, his dramatic Spurs exit and when he will retire
We've picked out some of the best bits from the second half of that remarkable interview with Piers Morgan.
Watch more of our videos on Shots! 
and live on Freeview channel 276
Visit Shots! now
Ronaldo spoke about the Glazers, his daughter's illness with bronchitis, leaving early against Rayo Vallecano, his thoughts on the Qatar World Cup and even claimed he would like Arsenal to win the Premier League this season. But none of those incendiary talking points were among the five highlights we've selected from the second part of his extended chat on TalkTV…
Erik ten Hag
In clips teased earlier this week as a promotion for the full interview being aired, Ronaldo told Morgan he didn't have 'respect' for United manager Erik ten Hag, who he claimed is trying to force him out of the club. He also referred to his treatment by the Dutchman as feeling like a 'black sheep'.
"The coach didn't have respect for me. So this is why the relationship, it's in that way. He keep saying in the press that he come to me, he like me blah, blah, blah but that it's only for the press, 100 %," the United attacker said. "If you don't have respect for me, I'm never going to have respect for you. I'm not hiding that the empathy with the coach is not good."
Tottenham departure
But Ronaldo, in his eyes, feels this was a contradiction and he said there was a lack of respect from Ten Hag, despite the differing scorelines in the matches against Spurs and City. Asked if he regretted the decision, Ronaldo said: "It's difficult to tell you 100 % but let's say I regret [it], but in the same way I felt provoked by the coach," he said.
"Not allowed for me, a coach to put me in three minutes in a game. Sorry, I'm not that kind of player. I know what I can give to teams."
Ronaldo also criticised the club's decision to suspend him for the subsequent game against Chelsea. "I was very, very, very, very disappointed for the communication of Manchester United. To be honest, I never had a problem with any club, with any coach," he said. "And they suspend me [for] three days, which I felt it was a lot - and the level of sport, clubs, I felt a lot. It was a shame."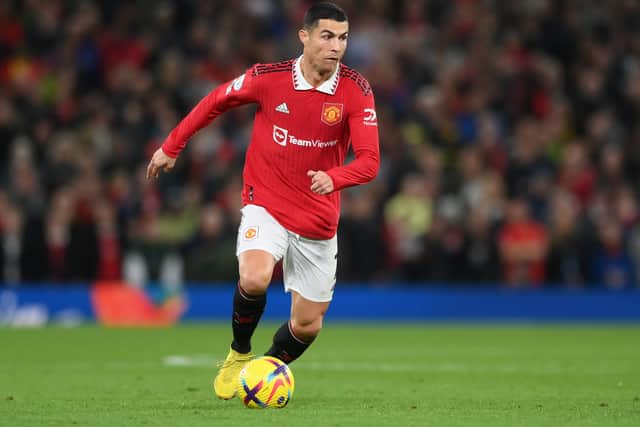 Man Utd future
Ronaldo was asked if he sees himself ever representing United again, and seemed to imply he could have played his last game for the Red Devils. "It is hard for me to say that I will not be back to Manchester United, but regardless, as you say, let's see what's going to happen.
"It is difficult to tell you right now. My mood is on the World Cup. It's probably my last World Cup, my fifth World Cup. I don't know what's going to happen after the World Cup."
Retirement
The 37-year-old also revealed he plans to retire in the coming years. "I want to play two years more, three years more," he explained. So two or three years maximum. I want to finish at 40. I think 40, will be a good age…
"But I don't know, I don't know the future. Sometimes you plan one thing for your life and as I told many times, the life is dynamic. And you never know what's going to happen."
Lionel Messi
In the final minutes of the interview, Ronaldo spoke of his immense respect for Lionel Messi, his long-term rival for the Ballon d'Or. The former Real Madrid and Juventus attacker told Morgan that Messi, along with Zinedine Zidane, is the best player he has ever come up against.
"He is an amazing player. Magic. Top," opined Ronaldo. "As a person, we share the stage for 16 years. Imagine 16 years. So, I have a great relationship with him."