Los Blancos have reportedly accepted United's bid and the 30-year-old has a full agreement on personal terms. The next step is for the player to have a medical, his visa to be sorted, and the contracts to be signed.
Here's everything you need to know about Casemiro's move to United, including who he is, how much United will pay Real Madrid, how long his contract will be, and how much money he will earn.
Who is Casemiro?
Casemiro is a Brazilian player who operates as a defensive midfielder for Madrid – soon to be United if and when he puts pen to paper.
He is widely regarded as one of the best holding midfielders in world football having made over 200 appearances for Real Madrid, winning 18 trophies including a record-equalling five Champions League titles.
His height is 6ft 1in and he was born on 23 February 1992.
Why has Casemiro chosen to join Man Utd?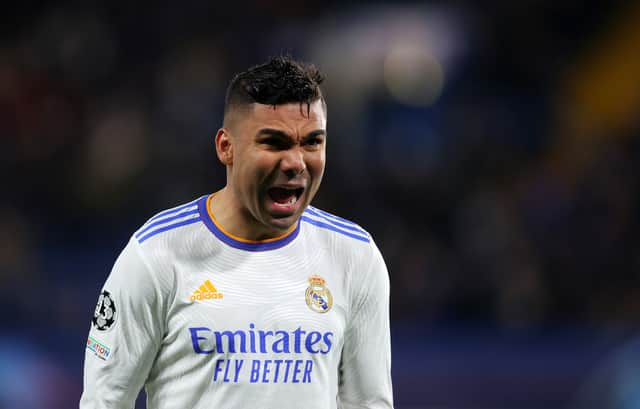 He said: "I've talked to Casemiro. He wants to try a new challenge – we have to respect his desire. His will is to leave."
What is the transfer fee Real Madrid will receive from Man Utd for Casemiro?
United will reportedly pay Real Madrid £50 million (€60 million) with a further £8.5 million (€10 million in add-ons), according to Fabrizio Romano. This means the total transfer fee will be in the region of £58.5 million (€70 million).
How long is Casemiro's Man Utd contract going to be?
Casemiro's United contract will reportedly run until 2026, with the option of a further year. Fabrizio Romano reports the player has a full agreement on a four-year deal with a one-year extension available.
What is Casemiro's salary going to be at Man Utd?
Casemiro will reportedly be on a similar salary to United goalkeeper David de Gea, according to The Athletic. If correct, Casemiro will earn around £19.5 million per year (£375,000 per week), making him the equal second-highest paid player at United, behind Cristiano Ronaldo.