Bernardo Silva comments show key difference between Man City & Man Utd and why Ralf Rangnick opinion is wrong
The Portugal midfielder is tenacious, hard-working and is a real team player, everything which is lacking at Manchester United.
Watch more of our videos on Shots! 
and live on Freeview channel 276
Visit Shots! now
The latter dominate games from start to finish, have a clear plan in possession and know how they want to build attacks, while their players seem to thrive in high-pressure situations.
But the contrast with United could not be more stark, and the Red Devils have lacked tempo this season, show no distinguishable patterns of play, and too often allow the opposition to dictate the pace and flow of matches.
But the differences between the clubs extend to more than just what they do with the ball, and it's City's work out of possession that helps them establish such a vice-like grip on proceedings.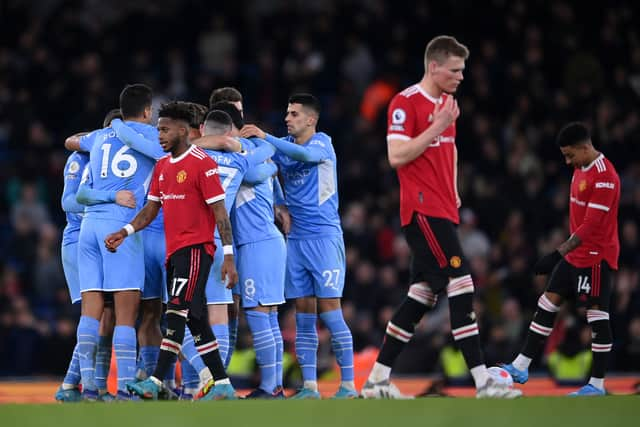 The contradiction in approaches was acknowledged by Gary Neville during last month's Manchester derby at the Etihad, while Atletico Madrid's Diego Simeone identified City's pressing as a major asset when speaking ahead of his side's Champions League quarter-final first leg on Tuesday.
"What I like most about teams that play well like City is the strength and effort they put in to win the ball back and continue to attack," he told reporters.
That high-pressure style is set by the team's very best performers, such as Kevin De Bruyne, Phil Foden and Bernardo Silva, a quality not always found in talented attack-minded stars.
Well, that at least is a belief that Ralf Rangnick holds, after he said it's 'difficult to change' technical players into physical performers, despite City's skilful squad showing that simply isn't the case.
In fact, Silva's response to a question earlier this week shows just how far off the mark United's interim manager is on this occasion.
'It's just about mindset'
City's No.20 has been one of the stand-out players this season at the Etihad after a difficult campaign in 2020/21.
But this term, Silva has become such a dependable performer for Pep Guardiola, and he's missed just one league game all season, the opening weekend loss to Tottenham Hotspur.
In addition, Silva has played eight of City's nine Champions League matches to date this campaign, the exception being a meaningless final group-stage fixture after City had already secured top spot.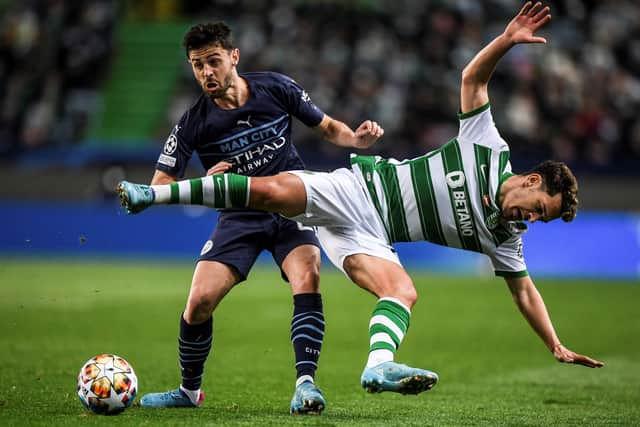 More than most, the Portugal international demonstrates all the qualities needed to shine in a Guardiola team, including the off-the-ball work.
"I think personally I had it before in Monaco, even in Benfica, in my academy years," the 27-year-old said ahead of City's first leg against Atletico. "It's all about knowing when you are a football player, talent is important, and you need to be technically good, but if you don't work hard for the team it makes it difficult for you to succeed.
"I have always tried to have both sides of the game, in my game. But when I look around and I see the guys pressing, pressing and pressing, there is only one thing I can do. I can only do what they do, which is run for the team and help each other."
Asked if this is a quality any player can develop, Silva responded: "Yeah, definitely. It's just about the mindset."
What did Rangnick say?
The disparity between Silva's reply, and Rangnick's quotes last weekend give a real insight into the attitudes among both Manchester squads.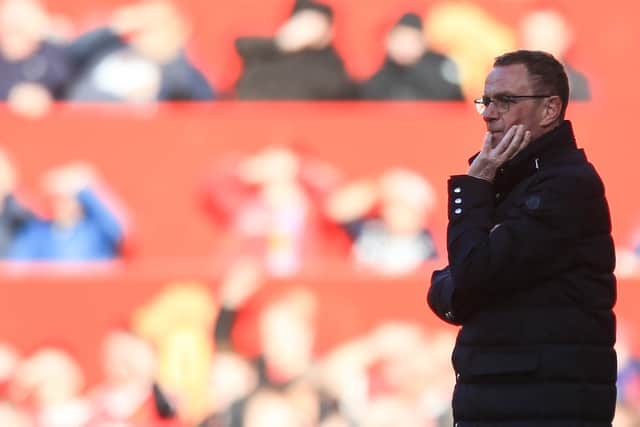 Speaking on Saturday, following United's 1-1 draw with Leicester City, a game in which the Foxes were physically stronger and showed greater desire on the ball, Rangnick said it is difficult to change the mentality of his players.
"It has to be a bit in the DNA of a player, to be honest," the German opined. "It's difficult to change, shall I say, a technically great player into a physical, aggressive player. We have a lot of people who are technical players.
"On a day when we are fluid and in our rhythm, we have shown in the past we can outplay other teams. But today was difficult. Leicester were aggressive and physical in many parts of the game. We had problems with them.
"It is what it is and it's difficult to change. I don't think it's to do with mindset, it's to do with the DNA of players. This team does not lack technical players, it can do with more physicality."
The stats don't lie
While it's easy to point the finger of blame at Rangnick for failing to raise the levels of certain players, perhaps the bigger question surrounds just why these United stars aren't capable of pressing and maintaining high levels off the ball.
This is a problem which pre-dates the appointment of the former RB Leipzig and Schalke manager, and the likes of Paul Pogba, Marcus Rashford and Jesse Lingard have been criticised for their lack of work rate throughout the season.
Then there's the Cristiano Ronaldo dynamic, and that United's team is built around a 37-year-old star who simply cannot press from the front, speaks volumes about the 'DNA' of this squad.
As for City, they have a dynamic midfield and attack in which Ilkay Gundogan and Riyad Mahrez are the eldest regularly-playing members at 31.
The last meeting between the teams also demonstrates the sharp contrast between them. The sides emerged for the second half of that encounter in March, with the score closely poised at 2-1, while United had given a good account of themselves over the opening 45 minutes.
But the second half was a different story, as City dominated on the ball and actually managed to amass 84% of possession from the 65-minute mark. Meanwhile, the hosts 86 made sprints compared to United's 59.
Football matches are so often decided by tactics, skill or even a lucky moment, but at its core, it can be a pretty simple game. Hard work is rewarded and indolence will be punished. United and City are living proof of that.