Anthony Elanga responds to Cristiano Ronaldo's 'easy' claims about current generation
Manchester United's Anthony Elanga has discussed some of Cristiano Ronaldo's controversial comments.
Watch more of our videos on Shots!
and live on Freeview channel 276
Visit Shots! now
As part of his criticism, Ronaldo criticised young players and how they are treated in the modern day. The Portuguese superstar, who is now at the World Cup with his country, didn't criticise any of the young players at United specifically, but some of his younger teammates could be forgiven for taking the comments personally.
Ronaldo said: "I don't think that word [respect] is the best one, they live in a different era. I can see with my kid, who is 12-years-old, the mentality is not the same. They have things more easily. Everything is easy. They don't suffer, they don't care. I don't mean just Man United, but all teams. They are not the same as my generation.
"But we cannot blame them. It is part of the life of the new generation, the new technologies which distract them from other things. They are not the same. They listen, but they hear one side [and it goes out the other ear]. It doesn't surprise me, but it is a shame. If they have the best examples in front of them, if they don't at least copy what you did, it's kind of weird.
"I remember when I was 18, 19, 20, I was always looking to see the best players – Ruud van Nistelrooy, Rio Ferdinand, Roy Keane, Ryan Giggs – this is why I have had the success I have had and the longevity, because I take care of my body, my mentality, my head, that's because I saw those guys and learnt from them.
"I think the best advice… I'm not the kind of guy who likes to give advice, I like to lead from example. I'm there every morning, I do the same stuff, I'm probably the first person to arrive and the last one to leave. They listen to one thing, and in two minutes they have already forgot. I like to lead by example. Some follow me, not much…
"They don't care. Some ones yes, but most of them no. To me it is not surprising. They are not going to have longevity in their careers. It is impossible. My generation you see players at 36, 37, 38 playing at a high level. I don't think many in this [new] generation are going to reach that level."
One of the jewels of United's newest generation is Elanga, who burst onto the scene last year. The 20-year-old has racked up 13 appearances across all competitons this season, and he continues to be tipped for big things.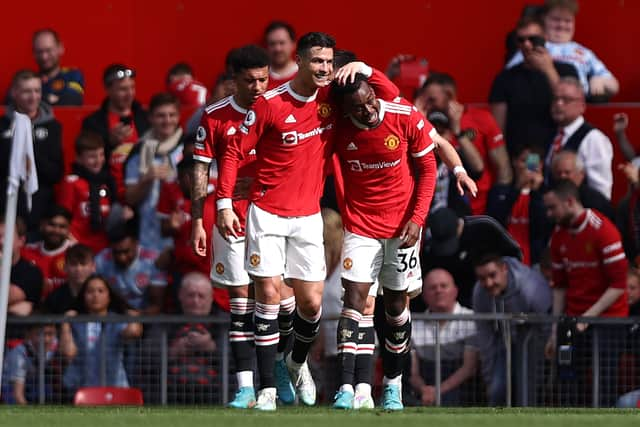 Elanga is currently away with Sweden for a couple of friendly fixture, and he has been asked about Ronaldo's comments by Swedish outlet Aftonbladet.
"Cristiano talks about young players in general. We are a new generation. I am always 100% focused on what I am doing, but I can understand what he is saying," the striker said. "There are a lot of phones and a lot of technology. It's quite easy for young players to get distracted and lose focus. I always focus 100% on my job and what I do. Young players at United are listening, but I can understand what he is saying."
Asked about his relationship with Ronaldo, Elanga added: "He means a lot to me. He has helped me a lot not only on the pitch but off it as well. He is an inspiration, not only to me but to all the young players at United. Sometimes it's just me and him at the gym."
Asked if the comments have impacted the relationship, Elanga concluded: "No, not so much. Because when I'm with him, he hasn't changed. He is still Cristiano Ronaldo to me. He has helped me a lot."