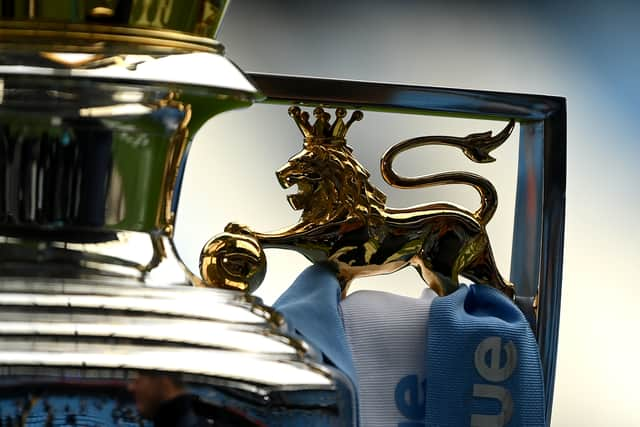 What results do Manchester City and Liverpool need to claim first place?
Manchester City head into the final day of the Premier League season knowing their fate is very much in their own hands in the title race.
The champions will reclaim their crown for another year with a win against Aston Villa on Sunday, however Liverpool will be hoping one of their former favourites can deliver the trophy to Merseyside.
A win for Steven Gerrard's men could see Liverpool claim top spot and keep those hopes of a quadruple going.
However, it's City who head into the final day with the advantage and are favourites to win a fourth title in five years.
Could we see similar scenes again this weekend? Credit: Getty.
What do Manchester City need?
The Sky Blues go into the final weekend of the season one point clear of second-placed Liverpool, with all 20 teams kicking off the final round of fixtures at 4pm on Sunday.
A win for City will guarantee them top spot regardless of how Liverpool fare, while if they match the result of Jurgen Klopp's men they will also finish first - (i.e. if City and Liverpool both win, draw or lose, then the former will win the league).
There is a chance City could lose and still claim the crown. In that scenario, a defeat coupled with a Liverpool draw or loss would see them win the league on goal difference, with both teams tied on 90 points.
A win for City will guarantee them the title. Credit: Getty.
City's goal difference is six better than Liverpool's after 37 games of the campaign.
What do Liverpool need?
Firstly, they need City to drop points, something which so rarely happens. In addition, Pep Guardiola's men last failed to win two consecutive league games in December 2020.
But in the unlikely event that City do slip-up, a draw or loss would mean Liverpool could claim top spot should they beat Wolverhampton Wanderers.
There is a hugely improbable scenario in which the Reds could draw and still win the league. For that to happen, City would need to lose to Villa by seven goals and Liverpool draw against Wolves.
Could we have a play-off?
For a league title to be settled by a play-off, it requires two teams to finish level on points, goal difference and goals scored, something which is almost impossible this season.
A Villa win at the Etihad and a Liverpool draw against Wolves would see the team end the term level on points, while City would need to lose by six goals for the sides to finish on the same goal difference.
In that unlikely situation, a 5-5 draw at Anfield would result in the clubs also achieving the same number of goals for.
In short, it isn't going to happen.