UEFA slammed for 'deeply concerning' silence on Man City fans' Turkey distress as Champions League returns
Level Playing Field received confirmation from UEFA that the letter had been received but is still awaiting a full response.
Watch more of our videos on Shots!
and live on Freeview channel 276
Visit Shots! now
A leading sports charity has branded UEFA's lack of response to harrowing stories from disabled Manchester City supporters who attended last season's Champions League final as 'deeply concerning, yet not surprising'.
Level Playing Field, a charity that works to represent disabled sports fans, collected fan accounts and shared them with UEFA three months ago but is yet to receive a response from the organisation as the Champions League Group Stage begins on Tuesday evening.
UEFA confirmed receipt of the Level Playing Field letter earlier this year but it is yet to follow up on a response that was promised to the group.
Level Playing Field shared the plight of disabled and non-disabled Manchester City fans who attended the Champions League final at the Atatürk Olympic Stadium in Turkey last June. The arrival and departure from the stadium was labelled 'hazardous and potentially life-endangering conditions for disabled supporters'.
One fan whose experience was featured in the letter to UEFA was Clare Watson, who broke her femur in two places at the Champions League final. Clare said: "It was atrocious. We were forced to leave our taxi to the ground by police, due to a road closure, despite the taxi driver making it clear they had two disabled passengers. From that point, we were left to walk down the motorway with other fans and no wayfinders in sight.
"We then got onto a path of what I can only describe as a sort of building site rubble, with some vehicles allowed down there too. There was a bus on the far side and a car stopped on the path, with another bus coming towards me. I was frightened and tried to move out of the way but tripped on an uneven pile of rubble.
"It was then clear from the pain that I needed an ambulance, but they would not allow my grandchildren to come with me.
"Once at the hospital, I was told the severity of the injury and that I would need surgery. I was moved to another hospital for the operation the following afternoon but was ignored and received no other attention for hours on end. Lying there in my own urine, soaking wet, was the most upsetting part of the experience."
Level Playing Field did receive a response to its letter following that final when a spokesperson said: "We (UEFA) constantly work to ensure the best possible conditions to eliminate barriers to access to UEFA competitions matches."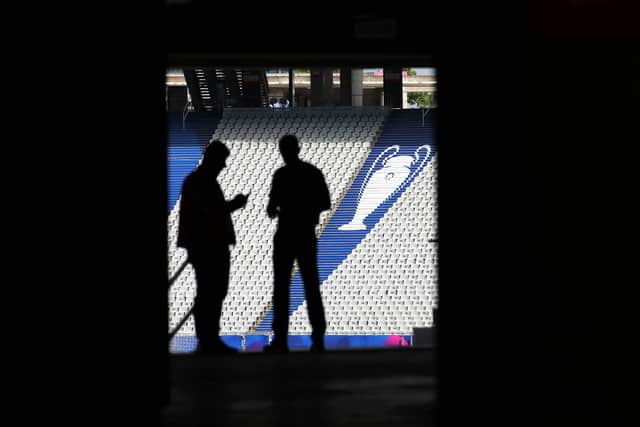 The charity contest that this is 'demonstrably untrue' as they criticise the waiting time for a full UEFA response. Chair of Level Playing Field, Tony Taylor, said: "UEFA's lack of response is deeply concerning, yet not surprising.
"After repeated failures, we demanded accountability. With no appetite to provide that, it is clear that their strategy has been to ignore the issue in the hope that it goes away. This continued lack of respect towards disabled fans cannot go unchallenged, however. Accessibility and inclusion must be at the forefront when planning these major finals, and there must be tangible evidence of that.
"Any response to this year's letter would have revealed the hollowness of their statements in 2022, but there remain questions in there which need to be answered. This season's final is set to be held at Wembley Stadium and we have already reached out to see where we can provide support, in order to ensure accessibility is placed as a priority."