Pep Guardiola says Jack Grealish must 'settle' off the field to find best form at Manchester City
The Manchester City manager praised the impact his No.10 had at Aston Villa, ahead of his return to his boyhood club.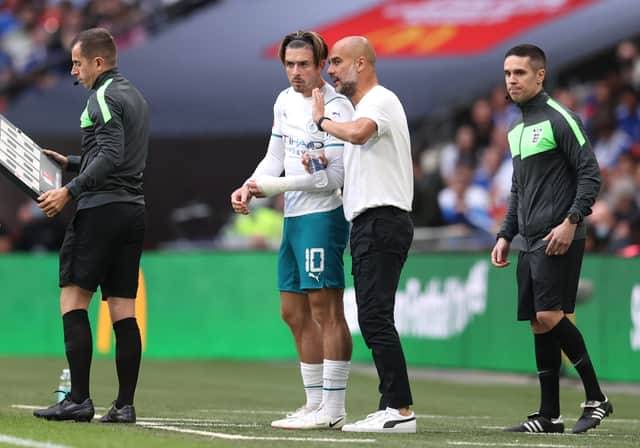 Jack Grealish and Pep Guardiola. Credit: Getty.
Grealish joined the club for £100m in the summer and has struggled to find the sort of form in sky blue that he so regularly demonstrated at former club Aston Villa.
Of course, it's the Villans who are up next for Guardiola's men on Wednesday night, and the City boss insisted his winger has performed well for the club this term, while also praising his impact during his spell at Villa.
Pep Guardiola said Jack Grealish has performed well since his move to Manchester City. Credit: Getty.
"I would say he started perfectly, it's easy because he knows many of our English players and the other guys are nice people," Guardiola told the media on Tuesday afternoon.
"He plays good, but he has to settle, to find a real apartment to live. You always need a little bit of time, but if you analyse games, did he play bad? Absolutely not. The way we plays, it's difficult to play bad.
"But the way we play and the expectation every few days, it's completely different to what he lived in Birmingham. But he did incredibly well there. His commitment to the club was incredible to stay and play in the second division, to get promoted and stay there and the second season in the division was great, what Aston Villa did.
Grealish helped lead his boyhood Villa back to the Premier League. Credit: Getty.
"Now this break, [he] comes back from the national team injured. Now, hopefully he comes back and step by steps finds his form.
"We have six seven months ahead of us. I don't think the best Jack Grealish we see next season, I want to see it this season," he added.
Man City team news
Grealish has missed the Blues' last three games since the international break and is a doubt for the big return to Villa Park, as is Phil Foden, who has been injured, and Kevin De Bruyne, who has recently tested positive for Covid-19.
But Guardiola said in his pre-match press conference that all three could be fit to feature on Wednesday.
Kevin De Bruyne could return for Manchester City on Wednesday. Credit: Getty.
"Kevin still hasn't trained. He was negative for the last Covid test but could not train," said the former Barcelona manager. "Jack, yesterday was the first minutes training with the team and Phil Foden too."
"Kevin is back but needs time to be fit," Guardiola continued. "All the people who had Covid say it drains and tires and Kevin, as a player, needs to be fit to show his top form.
"Phil and Jack are still in the same situation, maybe tomorrow they can play but not a lot of minutes. I don't know, we are going to see the training today, with the doctors and physios.
"The rest, we have just 13,14 players. We are in a difficult position because a lot of players play a lot of minutes. We will see what happens tomorrow after today's training."
Guardiola also confirmed John Stones was fit for Wednesday's game after a recent illness, and the centre-back could be called into action with Aymeric Laporte suspended.