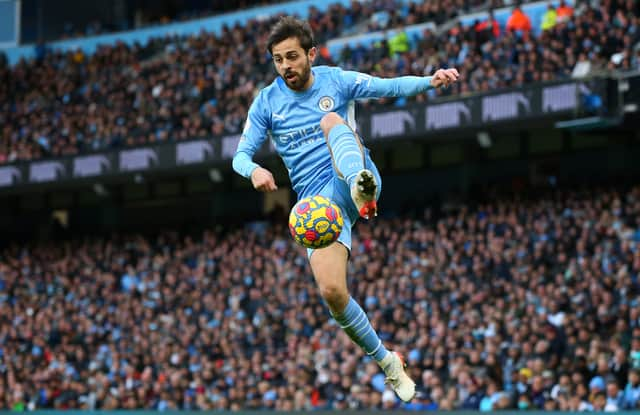 Bernardo playing for Manchester City. Credit: Getty.
Creativity is key, the ability to provide chances for the on-field attackers, while also chipping in on occasion with a few goals.
On the flip side, there's a need to protect the defence, while acting as the link between it and the forwards. Depending on the manager, there could also be the expectation to press, dominate the engine room and to retain possession.
In reality, few midfields manage to achieve all the above during a Premier League game - 70 or 80 percent of that is probably acceptable and should ensure three points.
Manchester City's midfield dominated against West Ham United. Credit: Getty.
Yet over the past few weeks, one has consistently hit those ludicrously high markers, and it's no surprise it's one managed by Pep Guardiola, a man whose whole coaching career has centred around demanding more from his sides - it's why he's Pep freaking Guardiola!
Hammered in midfield
Rodri, Gundogan, Silva have been truly remarkable of late, really since that disappointing 2-0 loss to Crystal Palace at the end of October. City have bounced back from that defeat in style and have won their last five in all competitions, with the trio starting in all of those and they've helped push City onto a playing level similar to that of last season's winning run, or the 100-point campaign.
Teams simply cannot deal with them. Guardiola's men are habitually suffocating opponents, slowly squeezing the life out of them and delivering nothing but frustration.
It was seen in midweek against Paris Saint-Germain and evidenced again in Sunday's victory over West Ham United. It may not have always been vintage football - in fact, there were periods their play bordered on tedious - but knocking the ball about so rhythmically in midfield gives the opposition little hope of getting the ball and an even smaller chance of launching attacks.
City moved back into second with a win on Sunday. Credit: Getty.
This is against the industry and passion of Declan Rice and Tomas Soucek in the Hammer's midfield, but both were cut frustrated figures on Sunday.
On the rare occasion West Ham gained possession, City's pressing and workrate also resulted in them instantaneously winning it back, and it's the midfield three who are the luminaries behind this oppressive playing style.
What the trio bring to the side
Rodri, the shield in front of the defence, snuffs out attacks in their infancy, nonchalantly covers large distances with ease and uses his physical strength to maneuver out of difficult situations. All the while, he's constantly available to receive the ball and sprays inch-perfect pass after inch-perfect pass to the side's advanced wingers.
Then there's Silva, City's best player so far this term. Playing centrally, the Portuguese No.20 has found a new lease of life. He glides around the field, does the overly complicated in just a few touches, but is also capable of marauding forward and releasing the ball to his team-mates.
The personification of a spinning top at times, Silva is so rarely dispossessed in tight spaces it beggars belief, and he's become the irreplaceable central cog which keeps everything else ticking over.
As for Gundogan, his role can often go underrated with less hustle and bustle than his two contemporaries. Yet there's a level of elegance the German brings and his ability to do the simple with perfection is unrivalled in this team. His passing is sublime and almost always arrives at the feet of a City player.
Gundogan can dribble, drops deep if required and his appreciation of space is David Silva-esque. Then there's the goals - three in nine league games this term after the 17 in all competitions last season.
De Bruyne, Phil Foden and even Jack Grealish can, and will, come into the midfield in the coming weeks and months, but right now this trio have an understanding and balance which is driving City forward.
That three may be deployed again against Aston Villa on Wednesday night with Guardiola lacking options at present, but even when all his star names are available again, the Catalan could opt to overlook them after inadvertently identified an almost guaranteed winning formula in the centre of the park.