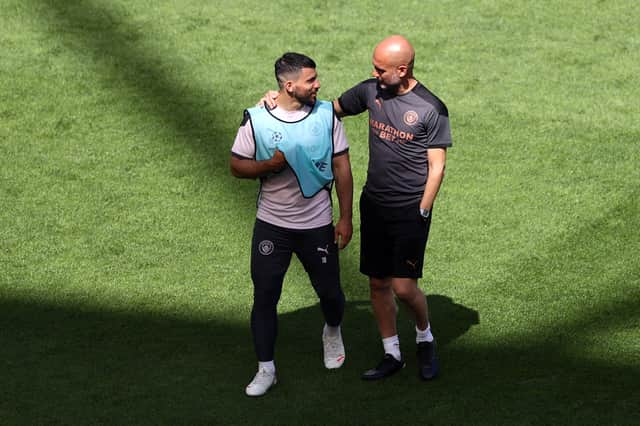 Sergio Aguero and Pep Guardiola. Credit: Getty.
Pep Guardiola and Kyle Walker have sent their best wishes to Sergio Aguero and his family after the Argentinian was given a preliminary diagnosis of heart arrhythmia.
The ex-Manchester City man has been ruled out for three months due to the condition and spent Sunday and Monday in hospital.
Aguero was playing for Barcelona in the 1-1 draw with Deportivo Alaves on Saturday when he suffered breathing difficulties and was withdrawn after 40 minutes, before being taken for immediate checks.
Aguero was forced to be withdrawn in Saturday's draw with Alaves. Credit: Getty.
On Monday, an official statement from Barcelona said: "Sergio Aguero has been subjected to a diagnostic and therapeutic process by Dr Josep Brugada. He is unavailable for selection and during the next three months the effectiveness of treatment will be evaluated in order to determine his recovery process."
'Be careful & safe'
Aguero spent a decade at the Etihad before last summer's move to Barcelona and became City's all-time top scorer.
Speaking on Tuesday ahead of the Champions League game with Club Brugge, Guardiola said he has reached out to his former striker with a message of support.
"I sent a message to his agent," the City manager told reporters. "It was difficult news for him and his family. We wish him, everyone at Manchester City from the staff to the chairman, all the people, a safe recovery.
Pep Guardiola. Credit: Getty.
"The time [taken to recover] doesn't matter, health is more important than anything else. He's in very good hands, he will take care of himself. I wish him the best recovery possible and [hope] he can come back to play again, otherwise he enjoys his life and enjoys what he has done.
"I don't know what he has, especially he knows he has to be careful and safe for the rest of his life."
Health is most important
Aguero's ex-team-mate Walker reiterated Guardiola's words that recovery is key, and explained he's also been in contact recently with Inter Milan midfielder Christian Eriksen, who suffered a cardiac arrest when playing for Denmark in Euro 2020 last summer.
"It's a shock when it happens to anyone," he said. "I played with Christian. You think about them and the family. I'm glad they're okay. We're all fit athletes and train hard every day. You have to take precautions and his health is more important than football at the minute.
"We're all human in more ways than one," he continued. "We make mistakes, we put in good performances. Health is key, without health you're nothing. As long as Sergio's okay. I know Christian is because I spoke to him a couple of weeks ago.
"I spoke to him on text, said I hope he's okay. I played in the game at Spurs when [Fabrice] Muamba went down [and suffered a cardiac arrest]. Seeing it happen with a few people isn't nice. The main priority is health, he should take as much time, being fit and healthy is the main priority."