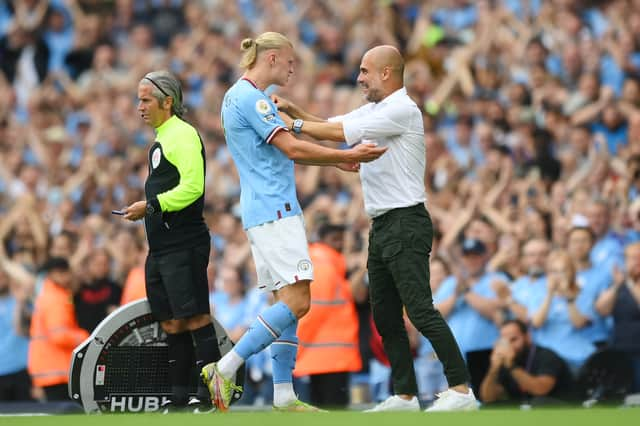 Pep Guardiola feels Erling Haaland can still improve despite goalscoring start at Manchester City. Credit: Getty.
Pep Guardiola has insisted Erling Haaland can still improve after his incredible start to life at Manchester City.
The striker has scored 19 goals in 12 appearances across all competitions since his summer arrival from Borussia Dortmund and has already netted three hat-tricks.
Guardiola has said on a number of occasions this season that Haaland's goalscoring attributes are instinctive and that there's nothing he can teach the No.9. However, the Catalan insisted ahead of Saturday's game against Southampton that Haaland can still get even better.
"Everyone can improve," said the City boss. "I think he is ready for that. I think everyone knows they can do. The only thing to never stop until we die is [the desire] to improve. We have the chance to always improve until we die and he is not an exception."
Guardiola reacted like this to Haaland's second goal on Wednesday night. Credit: Getty.
Guardiola was caught on camera pointing at Haaland in awe on Wednesday after he tapped in his second goal against Copenhagen, with the ball falling perfectly at his feet following a save from the goalkeeper.
Asked about his reaction, Guardiola said: "When he arrived we never spoke about how many goals.
"It's just the deflection and he was there. Why does the ball go to where he is? This is an incredible instinct. What can I teach him about being here or there?
Haaland has already scored 14 league goals this season. Credit: Getty.
"He has an incredible sense of strikers that the ball is going to finish. If he goes one second before, the ball won't be there but he has this incredible talent.
"Deflection, cross, he is there. That is why I was surprised. How can I as a manager teach him? It's impossible but it's instincts and natural. He did it in Norway, Austria, Germany - you don't have to say anything. He just moves like he smells it.
Haaland will hope to add to his goalscoring record when City host out-of-form Southampton on Saturday in the Premier League.
The Saints have lost their last three and collected just seven points this season, while City remain unbeaten and have won six of their eight league matches so far this term.