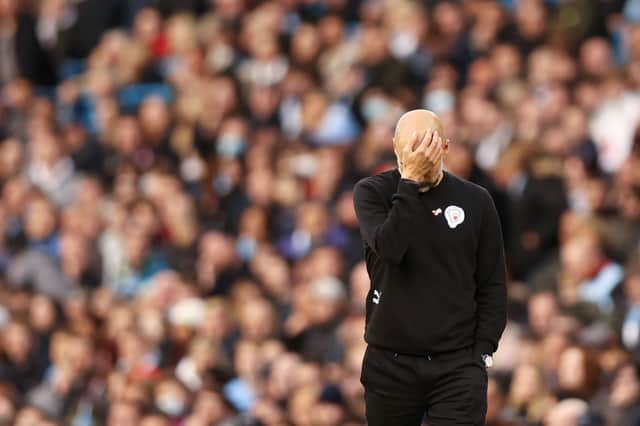 Pep Guardiola. Credit: Getty.
The Blues were beaten courtesy of strikes from Wilfried Zaha and Conor Gallagher at the Etihad, while the hosts were reduced to 10 men just before the break when Aymeric Laporte was dismissed.
After the game, Guardiola addressed all the major talking points in his post-match press conference, starting with his view on that red card, and Gabriel Jesus's disallowed goal, which was ruled out due to Phil Foden being offside in the build-up.
Laporte saw red for this challenge on Zaha. Credit: Getty.
Difficult with 10 men
"Could be a yellow card or a red card, it depends on the decision of the boss, the referee," he responded. "The goal [that was] disallowed [for us], I did not see it but the lines say he was offside. The goal we concede in Brighton was offside and we continue and score a goal. Listen, we did not lose for that.
"We were not able to win the game, we concede our first goal and afterwards work really well in the first half. After, of course, to play 45 minutes 10 v 11, a team like us who need crosses and do everything right [is tough], but the players show character and unfortunately you lose a game."
De Bruyne's form
Kevin De Bruyne was replaced on the hour mark after a performance that dipped below his brilliant standards. However, Guardiola isn't concerned with the Belgian's form.
"Everything we have done in these years is thanks to a person like him. He's such an important player for us. He's an excellent person - he's trying more and more every day. Today he makes a step forward in many things.
It was an off-day for Kevin De Bruyne against Crystal Palace. Credit: Getty.
"Ten against 11 we tried to put him more in the side to create his talent from there for our strikers. At the end we decide to put Joao in that side because he's more up and down. We didn't get a good result but always it is difficult when it's 10 against 11."
"Playing and rests are my decisions because I know a lot about what happens," he added, when asked whether De Bruyne would play his way back into form. "Our standards as a team individually and collectively are so high. We know how difficult, but not just him but Riyad and Raheem - all the top players. Thanks to them we achieved what we did in the past.
"In seasons there are highs and lows and big moments and we need to be strong here and positive. Next one is another challenge, another opportunity and this is what it is. Kevin knows it and has been more than good since he arrived here. He wants to continue to - if he gives up and says it doesn't matter, that is not the case. That's why we have to continue every day."
Grealish needs time
Another star man who hasn't quite hit the heights is Jack Grealish. The former Aston Villa captain was also replaced on Saturday in the latter stages and struggled to create chances against a compact Palace defence.
But Guardiola was keen to stress it will take time for Grealish to settle into a new style.
Grealish will adapt to City's system given time, claims Guardiola. Credit: Getty.
"His decisions always are good and he plays really good football," said the City manager. "With the confidence and a little bit more time he will become more aggressive to take decisions to score goals. But when he gets the ball everything he does makes sense. He frees men when he has the ball, every time he has the ball Joao [Cancelo] and Rodri are alone and they can use him. In that sense it is really good.
"But he came for four or five years, this is just the beginning and he's facing teams that sit back so deep and he has spaces to find more difficult than before, [when] it was more on the counter-attack [at Aston Villa]. But step by step he will get there."
Hitting the target
Guardiola did admit it is a slight concern that his side aren't quite at their fluent best in front of goal at present, following a second game in a row where they failed to score.
He also said City are showing a lack of consistency when it comes to scoring, after recently netting four at Brighton and five away to Club Brugge.
"Sometimes we have to arrive more in the final thirds with more situations," he explained. "But players take the decisions at 1-0 and they want to score goals a little bit quicker and with intimidation.
"They want to do it well and we know how tough this period is with the calendar and how important it is to maintain consistency. Unfortunately, today after 1-0 we create not much because it is difficult. We have to be good in those positions and we could not do it.
"We created chances a lot of chances in the first half," Guardiola responded to a similar question. "A lot of chances and [we] concede few. We produced more and yeah, unfortunately we have to score goals and we are able to score four or five in games.
"Brighton is an exceptional team - they have conceded five goals [all season] and we go there and score four, so we are a team that are able to do it. But against teams that defend so deep, sometimes it can be difficult to find the right moment."