Noel Gallagher teases treat for fans if Man City win Champions League after Liam muses on Oasis reunion
Noel Gallagher has promised to perform a gig in a very special outfit should Man City win the Champions League, but Erling Haaland needs to bag a hat-trick too.
Watch more of our videos on Shots! 
and live on Freeview channel 276
Visit Shots! now
A la Gary Lineker, the rockstar is fantasising about his club bringing home more silverware and has decided the most fitting way to celebrate would be to make a public appearance in nothing more than his undergarments.
Noel is a huge Manchester City fan and admitted that he usually tries to plan gigs around the Champions League final date, just in case his side makes it to the final. However, in a year with fixture dates shaken up by the Qatar World Cup, the star finds himself on tour this Saturday. Noel Gallagher's High Flying Birds are currently on tour in the United States and are booked to play a show in San Diego on Saturday evening.
Noel said: "I won't be in Istanbul – I always make sure the dates around the Champions League are free and usually that's always around the end of May.
"What wasn't factored in was the World Cup and the knock-on effect. I'm contractually obliged to play the gig no matter what and I'm OK with that – I will watch the game in a San Diego bar.
"If City win and Haaland scores a hat-trick I'll be going on in my underpants."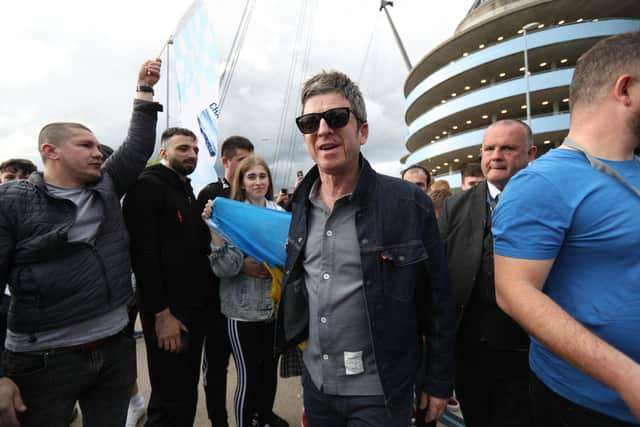 Noel's brother Liam had previously teased a possible Oasis reunion in celebration of Manchester City winning the treble, but that looks to be little more than some trademark taunting of his brother from the singer.
When asked if he would consider making the long-awaited reunion happen if City won the treble, Liam responded that he was "ready to go".
Noel Gallagher also opened up about his close relationship with Pep Guardiola and his visit to the changing rooms at the Etihad Stadium after the semi-final win over Real Madrid.
He told BBC Sport: "Pep is always trying to get me to bring a guitar to a big game, so I can play in the dressing room afterwards. I went to see him after the Real Madrid game [in the semi-finals] and told him I couldn't be at the FA Cup final or the Champions League final and, honestly, he gave me a look of utter disgust.
"It was with real contempt, as if to say 'well what the hell are you doing instead then?'. I said 'I am on tour' and he said 'cancel it!'.
"I said 'I can't, I've sold the tickets now', and he was like 'ahh, get out' and he almost launched me out of his office. He probably treated me the same way he did Joao Cancelo when he got rid of him in January."