The Oasis man is a lifelong City supporter and is often vocal about the club's progress on social media. Come full-time at Goodison Park, the star had Twitter open once again to celebrate with fellow fans.
The 50-year-old had four words to summarise his side's performance after an Ilkay Gundogan brace and Erling Haaland goal saw them untroubled on Merseyside.
Minutes after the final whistle, Gallagher described the City performance as, "SILKY SMOOTH FIZZY BUBBLECH".
"There he goes," one Manchester City fan replied while others added that "my man never fails" and "imagine this year City treble and Oasis back together, we can only dream Liam".
Gallagher's characterful Tweet proved just the start of a small online tirade that followed on Sunday, with many more thoughts about the football and a spot of distaste for the "naff" Eurovision too.
A couple of hours later, just as Arsenal were being thrashed by Brighton, the singer was back online to celebrate the Gunners' demise. He wrote: "We'll that's BRIGHTENED up my day MCFC x"
That message soon found its way to Arsenal fans who argued back with the Oasis man. Never one to shirk confrontation, Gallagher replied telling Gunners fans to "cry more".
As temperatures continue to boil, it wasn't long before the star tried to cool things down with another short message. He wrote: "Lots of folk getting upset about footy it's only a f-ing game you Bumbaclarts there's bigger things going on in the world LG."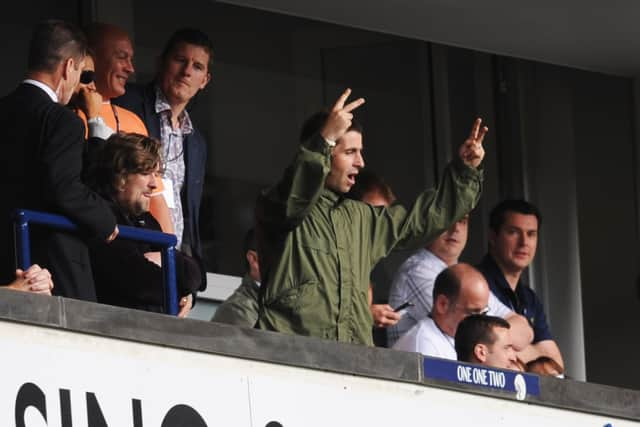 Gallagher is a regular at the Etihad Stadium, where he performed as a solo act last summer, and even teased fans that an Oasis reunion might be possible should Pep Guardiola manage to complete the treble this season.
City look on track to win the Premier League once again and a FA Cup final meeting with Manchester United provides another chance of silverware. Add the current Champions League campaign, in which City face Real Madrid in the semi-final second leg this week, and there's potential for the side to hold the three cherished trophies come the end of the season.
Should that happen, there's rumours it could bring about an Oasis reunion to celebrate the treble winning campaign.
Earlier this year, one fan asked Liam Gallagher if a long-awaited Oasis reunion might be on the cards should that happen, to which he replied: "I'm ready to go."
Oasis and Manchester City fans were evidently excited at the response, but whether even a treble win would be enough to bridge the gap between the infamous Gallagher brothers very much remains to be seen.