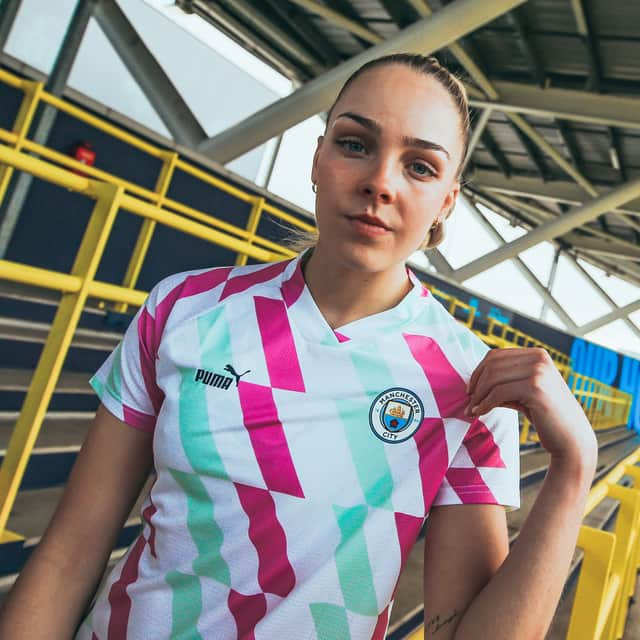 The brand new limited edition kit will be worn by Manchester City this weekend to mark International Women's Day.
Inspired by Emmeline Pankhurst, the club have teamed up with their kit manufacturer Puma to produce a brand new limited edition kit range that celebrates the political activist's Manchester roots and her 'overriding vision' for female equality, say the club.
While the men's team will take to the field in a pre-match jacket to celebrate the occasion, Gareth Taylor's Manchester City Women will don the kit this Sunday as they take on Tottenham Hotspur at the Academy Stadium.
Part of the club's 'Same City. Same Passion' campaign, which was launched at the turn of the year, the club say the they are looking to "show that the similarities to the men's game are far greater than the differences, and that men's, women's, boys' and girls' football can be enjoyed by everyone" following a 201 FIFA's Women's Football Survey which showed just 13% of its member associations believed women's football was perceived as a quality sport.
As part of their campaign, the club also merged the both the men's and women's Twitter at the beginning of 2023 and the year and hosted a dedicated Same City, Same Passion weekend in February.
The striking new jersey features the a colour scheme of green, white and purple as a nod to the colours worn by the Suffragette movement that was shaped by Pankhurst in 1902 and is available to buy via Manchester City's official website here.
Despite its nod to historic women of the past, the club stated the kit is intended to drive home a message for 'future generations', with the official website saying: "the message is clear. It's not men's football. It's not women's football. It's just football".