Man City boss praises 'leader' and reveals which England star she took under her wing
Manchester City head coach Gareth Taylor heaped praise on a two key players after they enjoyed an outstanding international break and revealed which fellow Lioness Alex Greenwood has taken under her wing.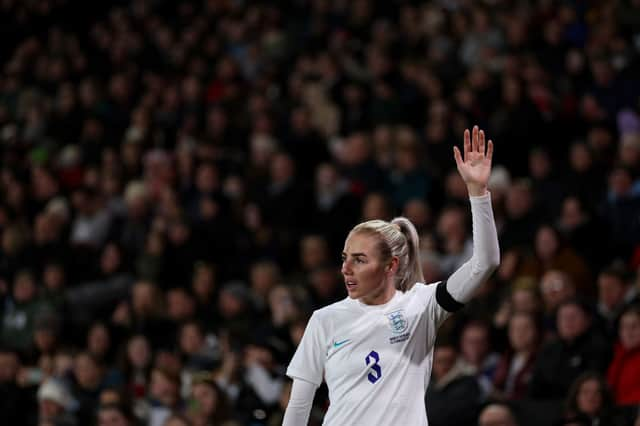 The City boss hailed Alex Greenwood's leadership skills after the 29-year-old captained England first the first time in last week's win over Italy.
Alongside striker Chloe Kelly, the defender was a stand out performer as the Lionesses retained the Arnold Clark Cup earlier in the week and Taylor revealed which leadership skills make her so vital to his own dressing room.
"You have different types of leaders. We are all aware of Steph (Houghton) and the contribution she has made to club and country for many, many years and still really contributes to us. She is a different kind of leader from Alex - Steph is very vocal, very supportive of team mate where Alex is a little more subtle" he said.
"Alex was a massive help for Jess Park as a young player. She really took her under her wing to help and guide her in the do's and don't's of being a professional player. I would say it is quiet leadership with Alex. She really displays her leadership by performance. What we have seen recently from her is top level performances. Without the ball, very aggressive and she is really popular within the team and really good to work with.
Leadership qualities of Greenwood
"But whether Steph has the armband or Alex does, there's some real good leadership in there."
As for Kelly, Taylor admitted hewas delighted to see the 25-year-old forward put in a player of the match display in England's 6-1 win over Belgium.
"Chloe is really humble like most of the players are, she is really appreciative of those around her that help her to be the very best version of herself. Again, I remember being posed a question a few weeks ago about Chloe not scoring - it is not an issue for me - it is about how they are contributing to the team and this is what we are in - a team game, you can't just rely on one player to be the person who is going to win a competition on their own.
"But, of course, Chloe will be enjoying this moment and she will need to enjoy the bad moments too. That's the life of a footballer. You really have to embrace the highs and show resilience that you can turn things around when they aren't going well for you."
And Taylor admitted some great performance at international level are only aiding a the dressing room is highly confident heading into this week's FA Cup tie at Bristol City after their vital win over Arsenal before the international.
A confident dressing room
"You find out more about people when the going gets tough and we had a meeting with the players this morning and I reaffirmed that feeling we had before the Arsenal game and spoke about how confident I was we were going to go out and win that game - no matter what. The team played with such aggressiveness and such a fluidity that would have been difficult for teams to manage.
"I saw things at the start of the season after we lost the first two games that told me we were going to be fine - and that is down to the players. It is really down to them.
"There was no whining or whinging and everyone was focused on what we had to do, we knew things were going to come good and before you know it we have three points on the board and are right back amongst it. It is a real positive group to work with, we speak about it alot that things aren't always going to go our way, we have nine games left, nine cup finals and we believe we can win every single one, but other teams are trying to be successful to - so what happens when you suffer or hit a bump in the road - that's when you find out about people and what I love about this group is there is no change in the mentality, no blaming, we get on with it and move onto the next game."