Key defender reveals Olympics legend asked for Man City star's shirt after Chelsea win
Manchester City defender Esme Morgan revealed athletics legend Usian Bolt moved fast to grab a players shirt after her side's impressive 2-0 win over Chelsea in the WSL.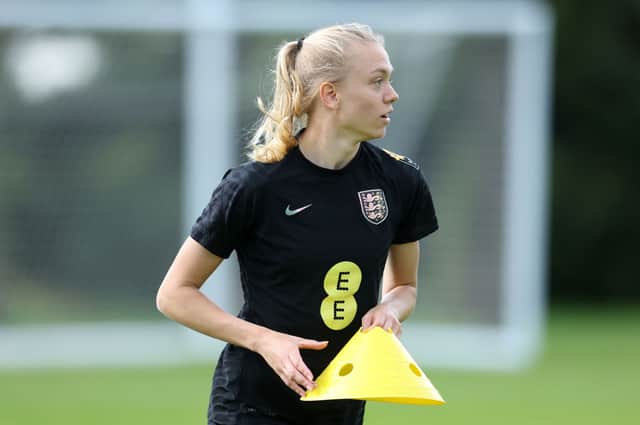 Manchester City were in superb form as they ignited their title hopes with an outstanding 2-0 win over champions Chelsea thanks to first half goals from Fillipa Angeldahl and Lauren Hemp.
The win moved City above Chelsea into second place in the WSL and, while the performance on the field was a memorable one, City defender Morgan admitted it was a particularly memorable afternoon for one of her team mates with eight time Olympic champion Usian Bolt requesting her shirt after the clash.
"I've heard Usian Bolt has just asked for Lauren's (Hemp) shirt" laughed the England defender in the aftermath of the win.
Bolt, a confirmed Manchester United supporter, had been at the game watching on alongside Lionesses manager Sarina Wiegman ahead of next month's international break.
"She must have impressed! I don't know when he asked for it but she came up to me after the game and said 'Ez (Esme Morgan), guess who just asked for my shirt?' and I was trying to think from the Chelsea team who she had a battle with today and they might have wanted it after. Then she said Usian Bolt - I couldn't believe it! It must be her pace" she giggled before jokingly confirming she felt Hemp was the faster of the two.
It was also revealed Hemp, who was outstanding for City in the victory over Emma Hayes's side, had not trained in the run up to the game after suffering from an ear infection.
"Today, bless her, she has ben struggling with an ear infection over the last few days. I was sat across from her in our pre-match meal and she was down in the dumps and obviously in a lot of pain I told her she was going to have the best game of her career today, and to believe and she ground away, scored an amazing goal and she always grafts so hard, she fights back and is always pressing and battling.
"I never really felt concerned that we were going to concede at all and I think to have that sort of reputation as a team who can stick it out when it gets tough towards the latter stages of the season, it is going to be really important to have that defensive stoutness. Getting in front of the ball, clearing it when we need to. That was something, for the most part, we did really well today" added Morgan.
And with the WSL drawing to a close, Morgan admitted the win can help mount a late title challenge despite being written off in some quarters earlier in the campaign.
"We beat Arsenal when it was a big game and we've beaten Chelsea when it was a big game so it just shows that when we need to be there, we can do it. We obviously need to play Arsenal, Manchester United - our other title rivals, we need to beat them and of course hope Chelsea slip up but it just shows that we are peaking at the right time.
"The result against Villa last week felt like a blip. We performed well and probably deserved to win the game so I think we are on a really good run of form. Hopefully we can keep them up coming towards the end of the season and keep putting points on the board".