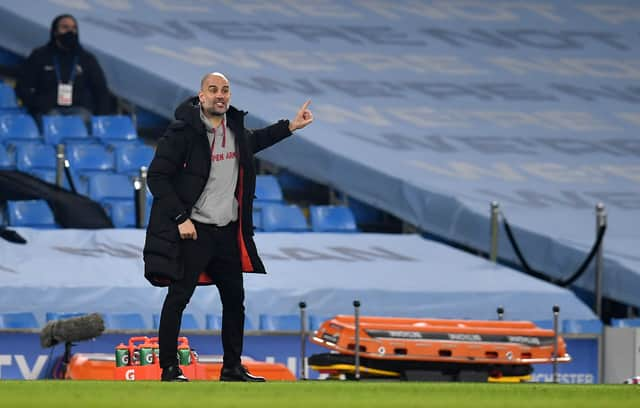 Pep Guardiola. Credit: Getty.
Pep Guardiola admitted he is unsure whether star man Kevin De Bruyne will be fit for Manchester City's Premier League opener this weekend against Tottenham Hotspur.
The champions kick off their 2021/22 campaign with several injury concerns, including the Belgian, who picked up an ankle problem during Euro 2020.
Asked about De Bruyne's fitness during Friday's press conference, Guardiola admitted he is yet to return to full training.
"It [the injury] is getting better, every day it is getting better," Guardiola told reporters via video link. "But we are still waiting on what will happen in the next days.
"He cannot do the full training session, just some partial. Some with us and some alone, so we will see what happens in the next days."
After England's progression to the final of Euro 2020, international stars Kyle Walker, John Stones and Raheem Sterling may not be fit to start against Spurs, with Guardiola admitted they 'need more time'.
"They came back really well [from their holidays]," he said. The sun and rest produced a really good affect on them, as always.
"Everyone is ready. It was important that when they came back they came back with energy and the right energy. They need a little bit of time after four weeks off and only two training sessions. They need more time.
Guardiola also revealed Phil Foden was the only player missing from Thursday's training session, including Aymeric Laporte, who returned having been forced to self-isolate recently.
"Every player needs time to get to his best," said the City boss. "So, yesterday was the first day that we were all together, except Phil because he was injured. He was in the locker room with us, so it was the first day we were together.
"We need time, like last season and every pre-season is like this. We decided that some players come back later than usual. I guess they need rest physically and mentally after a tough season.
"But the way they behave so far is exceptional, as always. Hopefully, sooner rather than later, everyone is going to get [in] the best condition."