The Official Fantasy Football game of the Premier League has released the price of players ahead of the 2022/23 season.
With just over a month to go, fantasy football managers will be keen to start piecing together their squad for the first game week of the season.
Ahead of the new season, here are the most expensive players from Manchester City you can select in your side, and also some tips on how to play the game.
What is FPL?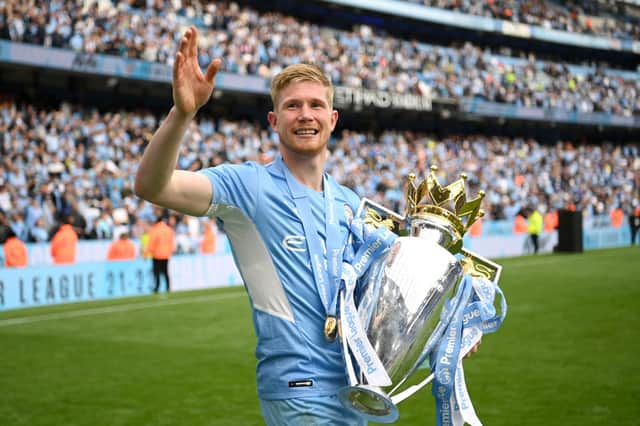 FPL is a fantasy Premier League game which allows you to create your own team and go head-to-head with family and friends.
You can compete in leagues with to see which side amasses the most points.
At the start of the season, you'll get the chance to pick your squad which is made up of 14 players. At your disposal, you have £100 million with which you will build your squad, with only 11 playing each week. You can only select a maximum of three players per Premier League team.
You can make unlimited transfers until the first gameweek of the season, the deadline for this will be around 90 minutes before kick off in the Crystal Palace v Arsenal match on 5 August (8pm kick-off)
During the season, you will then get one free transfer per week. You can make more, but doing so will inflict a four-point penalty on your points total for that gameweek.
You can also select a captain, and all points for that player will be doubled during that gameweek.
Boost chips will be made available for use at any time during the season. One of these is the Triple Captain chip, which triples all the points your captain picks up for the gameweek.
When does the Premier League season start?
The 2022/23 Premier League season gets underway on Friday 5 August with the first match being Crystal Palace v Arsenal.
Who are the most expensive Manchester City players in FPL 2022-23?
Arguably the most anticipated price reveal of the summer was for exciting new City striker Erling Haaland.
One of the most exciting talents in world football, the 21-year-old joins the Blues having grabbed 86 goals in just 89 games for previous club Borussia Dortmund.
Many of City's star players were popular with FPL managers last season, and there's real interest to see the starting price of these stars for the coming season.
Kevin De Bruyne, Raheem Sterling and Riyad Mahrez are all players who regularly win a lot of points for FPL managers, and all three have had their prices for the new season revealed.
Here are the five most expensive Manchester City assets in the 2022/23 FPL season.
Kevin De Bruyne - £12 million
Erling Haaland - £11.5 million
Raheem Sterling - £10 million
Riyad Mahrez - £8 million
Phil Foden - £8 million
Which other Man City players have been announced?
The prices of six other City players have been announced, and these are listed below.
Ilkay Gundogan - £7.5 million
Joao Cancelo - £7 million
Bernardo Silva - £7 million
Jack Grealish - £7 million
Kyle Walker - £5 million
Ruben Dias - £5 million
When will the rest of Manchester City's prices be released?
The full FPL price list for the 2022/23 campaign will be revealed next week.
No date has been given by FPL for when managers can start building their teams, but with the full list of player prices due to be launched next week, it should be soon.