Pep Guardiola explained why Tottenham Hotspur were so difficult to play against on Saturday, when speaking in his post-match press conference.
Manchester City lost 3-2 against Spurs at the Etihad, adding pressure to their title aspirations.
After the game, Guardiola was asked about the race for top spot, Spurs' performance, Harry Kane's impact, and how Antonio Conte's Tottenham differed to Nuno Espirito Santo's.
Here's everything the City manager had to say in the first half of his post-match media briefing…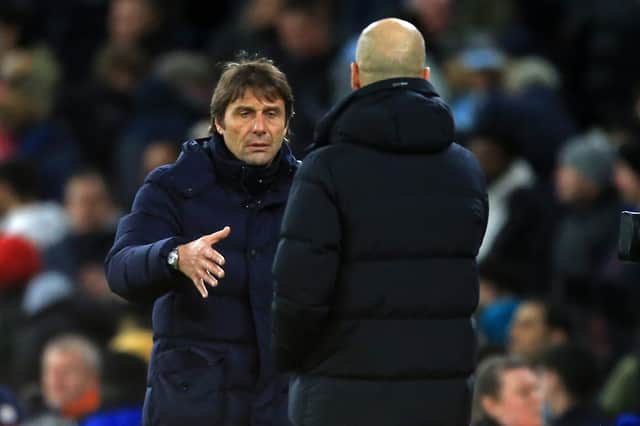 "Every goal is different. It's difficult to defend the second one, especially when they come from five or 10 yards behind; it is not easy. The third one we defended bad at the back post and we lost the game."
Title battle and Tottenham performance
"I said weeks ago that we needed to win a lot of points and we knew it. Every team plays for many things: for champions, Champions League, Europa League, to not be relegated. Every game will be a big battle and we knew it. Now it will be good to know how difficult it is. Since October we didn't lose in the Premier League - that shows how good we have been. Now it's recover. I knew it, they [Tottenham] have fantastic players, a fantastic manager, and we knew after three defeats they would be there. They are a team that their shape is so deep. Harry Kane in front of Rodri, basically there are no spaces, you have to find the actions. Of course they allow us to cross with [Cristian] Romero and [Eric] Dier. There is practically no space and that happens many times against opponents. But after that when they recover the ball they can keep it and have contact with Harry Kane. He has two or three touches which gives time for [Heung-min] Son to run. This is difficult, but in general we controlled [the game]. We were from right, left, from crosses and shots. We were there but we could not win."
"It [the transfer] never was an option. Everyone knows we were there but never was it an option. Let's forget, it's the past. He doesn't necessarily show it [his quality] just today with the goals he scored. All the UK knows it."
Difference from season opener
"It was completely different, it was a different game. Not all the people come back from the Euros and it was a different squad. Today was a different manager, a different approach and situation. Every game is completely different."