Julian Alvarez will aim to guide Argentina to World Cup success on Sunday when they take on reigning champions France in Qatar.
The striker has enjoyed a meteoric rise in the last year since signing for Manchester City from River Plate and has already scored seven times for Pep Guardiola's side, despite largely playing second fiddle to Erling Haaland. Alvarez has also excelled at the World Cup, netting four in six matches for Argentina, while his introduction to the team coincided with their improved performance following underwhelming performances against Saudi Arabia and Poland in the first two matches.
At just 22, Alvarez is potentially on the verge of achieving a feat that some of the game's greatest players never have accomplished. But those who coach and play with Alvarez know what a special talent he is and we've picked out some of the best quotes that showcase this.
'Surprised how good he is'
It was Guardiola who chose to bring the youngster to European football, and as soon as the announcement was made last January, the City boss was excited at the prospect. "I think Man City make an incredible deal because he's a player who is involved really well," he said at the time.
But even Guardiola has been taken aback by Alvarez's quality since he signed. "I knew him a bit from the TV, the clips at River Plate – I am surprised how good he is," admitted the Catalan earlier this season. "All of us are impressed how he is as a centre forward, the work ethic and many things.
In October, he added: "In the training sessions we see how clinical he is and how fast, and clever he is in those moments. We are so happy for him."
'Extraordinary'
Lionel Messi stole all the headlines after Argentina's semi-final win over Croatia, mainly for the solo run and assist he produced in the second half for Alvarez. But the Paris Saint-Germain star was quick to acknowledge Alvarez's input after the game, and Messi even claimed the City forward outshone him on the night.
"Every player did very well," he said upon receiving his man-of-match award. "But if I have to choose I would give this award to Julian Alvarez. He had an extraordinary game."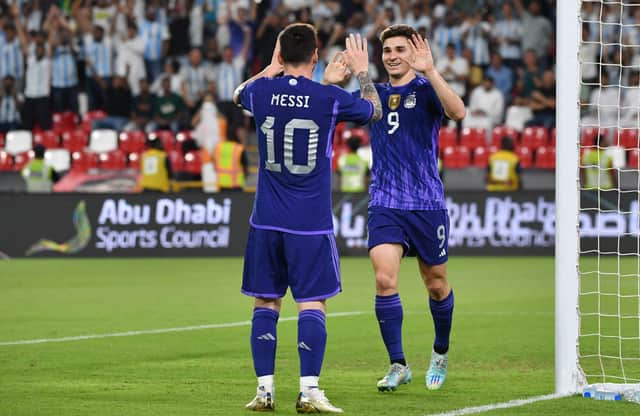 'Going to be good'
City aren't short of goalscoring protegees, and even the sensational Haaland knows he has a rival for a starting spot up front. He and Alvarez managed to score a combined five goals in August's victory over Nottingham Forest, and Haaland praised his team-mate in the aftermath
"Julian Alvarez is an amazing footballer, amazing talent," the Norwegian told Telemundo Deportes. "I have to say, he's good, he reminds me a little bit of Sergio Aguero.
"You saw in the game against Forest, he's amazing, and also that we can play together. This is really important. This is something we should be able to do, to play with each other. He's going to be a good footballer."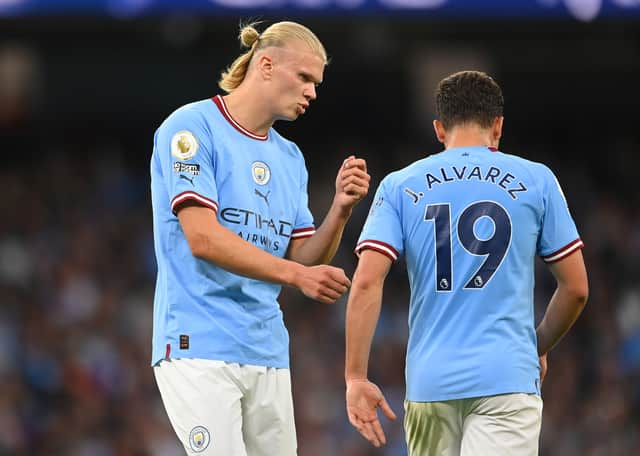 'Suited to City'
Alvarez and Aguero's time in the national team did briefly coincide and both were part of the Argentina squad that won the Copa America last year. The latter is, of course, City's all-time leading scorer and knows exactly what is required to play in a Guardiola team.
That said, Aguero has been impressed with Alvarez's immediate impact in the Premier League. "Julian has a polished character, he's calm and collected, and always eager to learn and I think his first steps at City have shown this," Aguero told City's website in November.
"Arriving from Argentina and kickstarting your career in the Premier League - especially in a team filled with amazing players like City - is easier said than done. However, he's had a superb adaptation.
"He has been able to find the net, yes, but most importantly, he's been able to suit Pep's vision perfectly – applying constant pressure, sprinting non-stop, finding gaps and partnering up. It's been his first few months, but he's proven he's a talented and reliable player, up to the quality that a major club like City demand."