Nicola Bulley: Police refer themselves to watchdog over contact with missing mum before disappearance
Lancashire Police have referred themselves to the police watching over contact with Nicola Bulley prior to her disappearance.
Watch more of our videos on Shots! 
and live on Freeview channel 276
Visit Shots! now
Lancashire Police have  referred themselves to the Independent Office for Police Conduct (IOPC) after revealing they were called to Nicola Bulley's home on January 10, just weeks before she went missing. The force said it had sent a response car staffed by officers and health professionals to a report of concern for welfare at the home of Nicola and her partner Paul Ansell.
They confirmed no one was arrested during the incident and it continued to be  investigated. Police have claimed the missing mum-of-two had "significant issues with alcohol which were brought on by her ongoing struggles with the menopause." The force also said this week that  Nicola's struggles had resurfaced in recent months, causing challenges for Paul and Nicola's family.
Confirming a referral has been made to the watchdog, a spokesperson for the IPOC said: "This afternoon we received a referral from Lancashire Constabulary regarding contact the force had with Nicola Bulley on January 10, prior to her disappearance. We are assessing the available information to determine whether an investigation into that contact may be required and if so, who should conduct that investigation."
Nicola has now been missing for three weeks after disappearingwhile on a dog walk along the River Wyre in the village of St Michael's, Lancashire.
Nicola Bulley: What is the latest update
Police believe Nicola fell in the River Wyre, but despite an "exhaustive" search by officers along with specialist diving teams no trace of her has been found. At a press conference on February 15, police revealed Nicola had been graded as high-risk when she was reported missing on Friday, January 27, due to "specific vulnerabilities". These were later confirmed significant" issues with alcohol triggered by ongoing struggles with the menopause.
Nicola's family has released a statement urging the public to focus on finding her, not "making up wild theories about her private life". They said: "It has now been three weeks since Nikki went missing. We, as a family, believe that the public focus has become distracted from finding Nikki, and more about speculation and rumours into her and Paul's private life.
"As a family, we were aware beforehand that Lancashire Police, last night, released a statement with some personal details about our Nikki. Although we know that Nikki would not have wanted this, there are people out there speculating and threatening to sell stories about her. This is appalling and needs to stop.
"The police know the truth about Nikki and now the public need to focus on finding her."
Nicola Bulley: Timeline of events on January 27
8.26am: Nicola left home with her two daughters, aged six and nine 
8.49am: She dropped her children off at St Michael's Primary School, and spent a few minutes chatting to people in the school yard
8.43am: Nicola set off along a path by the River Wyre in the village of St Michael's with her dog, Willow. 
8.47am: A dog walker who knows Nicola saw her walking Willow around the lower field - their two dogs interacted briefly before the witness left the field via the river path 
8.53am: Nicola sent an email to her boss, and six minutes later sent a message to her friend to arrange a playdate for her children
9:01am: Nicola logged onto a work conference call via Microsoft team - she was on mute and had her camera off 
9.10am: A witness, who also knows Nicola saw her on the upper field with Willow - the dog was off its lead and not in its harness. This is the last confirmed sighting of her.
9.20am: Police believe this was the moment Nicola's phone was laid on a bench by the river
9.30am: The conference call Nicola's phone was connected to ends, but she stays logged on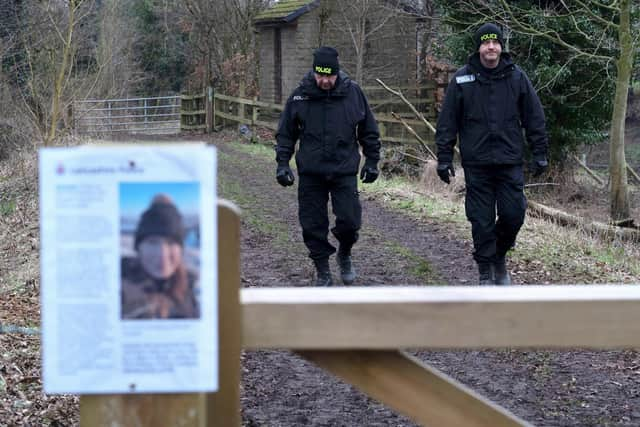 9.33am: Nicola's phone was found on a bench by another dog walker who did not know her. Willow was also found running loose between the bench and a gate to the field. The dog's harness was found on the grass between the bench and the river bank 
10.50am: Nicola's partner Paul Ansell and the school her children attends are alerted to the situation