Blackpool strongman proposes to partner in front of thousands at Bowler's Exhibition Centre in Manchester
Steve Stevens, who stars in the Circus of Horrors at Blackpool Pleasure Beach, popped the question in front of 3,000 people.
Watch more of our videos on Shots! 
and live on Freeview channel 276
Visit Shots! now
A woman says she "could have throttled" her strongman boyfriend when he dragged her onstage in front of thousands of strangers and popped the question.
Victoria Edwards, 29, said she was "mortified" and "could have killed" her world record-breaking partner, Steve Stevens, 32, when he pulled her on stage at one of his shows. While flexing his muscles and performing at Bowler's Exhibition Centre, Manchester, Steve insisted Victoria appear in front of over 3,000 screaming fans - much to her horror.
Steve - who performs as Titan in the Circus of Horrors at Blackpool Pleasure Beach - then dropped to one knee and asked her to marry him in what he says was "his riskiest stunt yet" at a show late last year. Victoria said 'yes' and the couple are planning to tie the knot with a small ceremony at a hotel in Preston in June 2024.
Mum-of-two and former senior care worker Victoria, from Blackpool, said: "Steve asked me before the show if I'd come up on stage for a stunt and I said no because I've never done that before. But at the end of the show he said, 'I've got one more stunt' and he called me up on stage anyway. I could have throttled him.
"As I walked up, he had a 'marry me' message projected onto the big screen behind me, so everyone could tell what was going on - except me.
"When I finally made it onto stage he went down on one knee, and then I knew. "I was just in shock. I said yes, of course. But when I got down off the stage again, I shouted at him. I was very happy though. "In all the time I've watched Steve do his stunts, I've never seen him shake like that. He was so nervous."
Steve said: "As a sideshow strongman, performing dangerous stunts and death defying feats is part of the job but this was by far the scariest thing I've ever done."
Strongman Steve is best-known for his ability to hammer nails into wood with his bare hands.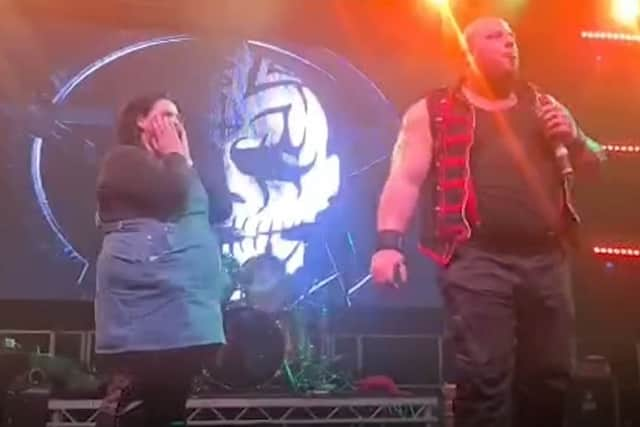 He set the world record in June last year by hammering eight five-inch nails into wood with his hands in 38 seconds at the UK's Strongest Man record breakers competition at Milton Keynes Stadium. It was Steve's second world record - having previously set one for bending 25 steel nails in half in 60 seconds.
Victoria admits having a strongman as a fiancé does come in handy at times. "If he can pick up 10 shopping bags in each hand, he will," she said.
But despite Steve's proficiency with nails, when it comes to doing manual labour around the house, she claims he is "absolutely shocking".
"He's actually a baby at home. He could stub his toe and he wouldn't stop going on about it for a week," Victoria said.
The couple live together in Blackpool, with their two children - both boys, aged three, and six months. "Steve splits his time between his day job as an activities coordinator at a care home and looking after the kids," Victoria said.
"Once the kids are in bed around 7pm, he'll go to the gym to train. He might be the strongman and do all these performances. But when he's at home, I'm in charge."