Why is the Santander app not working & what do I need to do?
Manchester is showing as one of the hotspots where outages have been reported on Friday morning.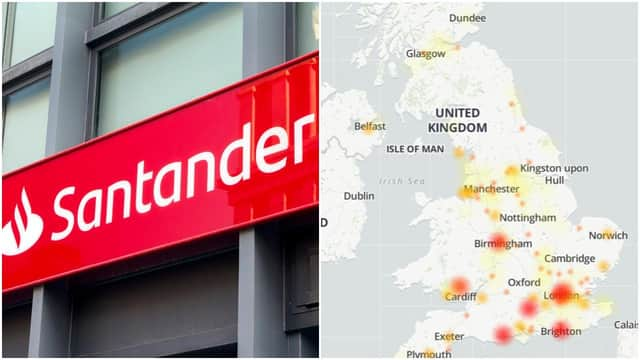 The problems started early in the morning, with more than 1000 people reporting the issue on complaints tracker website Downdetector.
The problem appeared to be UK-wide, though Manchester was showing as one of the hotspots on the Donwdetector map.
Why is Santander down?
People have been left unable to get into their online banking or mobile banking apps from Santander, but the problem isn't reserved to one bank.
HSBC, TSB, Natwest and Halifax customers have also reported access issues, as well as those who use First Direct and Marks & Spencer banks, which are both run by HSBC, The Co-operative Bank, Lloyds and Royal Bank of Scotland.
All of the above lenders' internet and app services were down on Friday morning, with customers reporting issues from as early as 3am.
Sky spokesperson told The Mirror: "Sky Broadband customers may be experiencing issues when trying to access some websites this morning. We're investigating this as a priority and we're sorry for any inconvenience."
M&S Bank replied to some customers on Twitter saying the issues were connected to a Sky internet outage.
"We are aware of issues for our customers, if you use Sky as your internet provider," the bank replied to one customer.
Santander tweeted: "We're aware that a number of internet providers are experiencing issues this morning, meaning some customers are unable to access our online and mobile banking services. We are sorry for the inconvenience caused and are working to resolve the issue as quickly as possible."
How can I check if I'm affected?
You are able to check whether you have been impacted by the outage using your bank's dedicated service status web page.
It will usually show if any services are experiencing issues, including mobile and online banking and card payments.
This can usually be found in the customer support section of your bank's website.
For example, Santander's website is currently reporting issues with telephone banking.
Banks regularly issue updates about their services on social media, so it is worth checking Twitter to see if you can get any further information.
Can I claim compensation if my online banking is down?
While banks don't have a fixed compensation scheme for any service problems, you may be entitled to some money bank depending on how much the issue has affected you.
It is a good idea to gather evidence of your problem, including exactly when you were unable to access the website or app, so you are able to make a formal complaint to your bank.
You could also include any costs you had to pay as a result.
Furthermore, if your credit rating has been affected by a server outage if you were charged a late payment fee after being unable to carry out a transaction or pay a bill, you should also keep a record of this.