A Manchester charity known for its daredevil fundraisers is once again asking supporters to push themselves to their limits for its latest challenge - a Valentine's dip at Sale Water Park.
We Love MCR will ask fundraisers to take the plunge into the freezing water at a time when it will probably be close to its coldest. The charity is hoping to get 150 brave souls taking the dip into the water, which is expected to be barely above freezing, for a mind-over-matter stunt raising money for its work improving the lives of Mancunians across the city and supporting community groups.
Here's what you need to know if you are thinking of taking on the challenge, or if you need a bit more persuasion.
Why is We Love MCR asking people to take a freezing dip at Sale Water Park?
The freezing dip at Sale Water Park is the latest in a line of challenges put on by We Love MCR which have asked fundraisers to summon up their courage and face a rather daunting challenge.
Now the charity wants people to plunge into the icy water on Saturday 18 February and is hoping the choice of Valentine's weekend will get hearts racing rather than dampening spirits.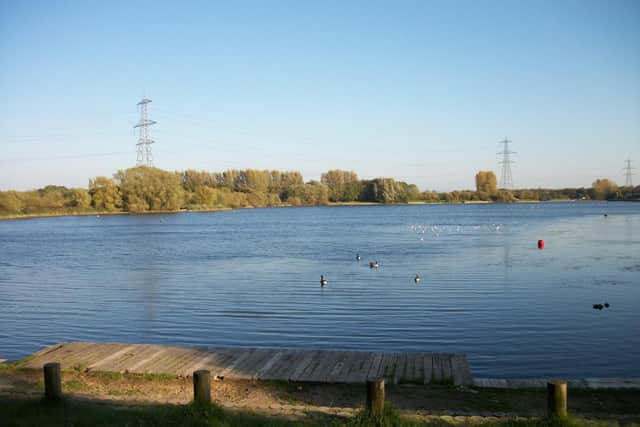 Participants must wear anything other than a wetsuit and will be taking their bracing dip when open freshwater in the UK is at its coldest, with the temperature in the water on the day expected to be around a decidedly-nippy four degrees.
There are just 150 places available and anyone who signs up will get full training in breathwork and controlling the body's response to cold water at the lake-side by Jane McCormick of Openswim, who is accredited in cold-water immersion training by world-renowned expert Wim Hof.
The challenge is taking part as We Love MCR celebrates its 25th anniversary.
How do I get involved?
Anyone wanting to take the dip must pay an entry fee of £10 and raise a minimum amount of £150. More information on how to sign up is available on the We Love MCR website here.
Alternatively people can support the event while staying warmer and dry by turning up on the day to cheer on those taking part. Entertainment and refreshments will be available for swimmers plus their friends and family, and music will be provided by DJs and Manchester-based artist Ceeow who is supported by BBC Introducing.
What has been said about the event?
We Love MCR head of charity Ged Carter said: "We're asking hardy Mancunians to get their heart racing this Valentine's! This is a real mind-over-matter challenge for a great cause. Join me, and the courageous Lord Mayor of Manchester, for your coldest dip ever."
We Love MCR first registered in 1997 with the aim of improving people's lives in Manchester. It recently launched a welcome fund for Ukrainians arriving in Manchester after fleeing the Russian invasion of the country and has two key programmes: the Stronger Communities Fund which provides grants of between £500 and £4,000 to groups wanting to improve their local areas and Manchester's Rising Stars Fund which offers grants to ambitious disadvantaged young Mancunians aged between 15 and 22 to help them take their next steps to success in work, qualifications, and entrepreneurship.