A Manchester paramedic will lace up his trainers and tackle the gruelling staircases of a city skyscraper after his family suffered a double tragedy.
Gary Pullan will take part in the run up Beetham Tower to raise money for Manchester cancer hospital The Christie.
Gary has lost both his first wife Claire and his teenage son Matthew to the disease in a double blow that has left him and his grieving family devastated.
Gary says he hopes to give something back to the renowned cancer hospital as its work has had a significant impact on him.
A double tragedy
Gary, who is 42 and lives in Bury, will take on the tower run in memory of the two people in his life he has lost to cancer.
His first wife Claire died of the disease in 2012, aged just 36.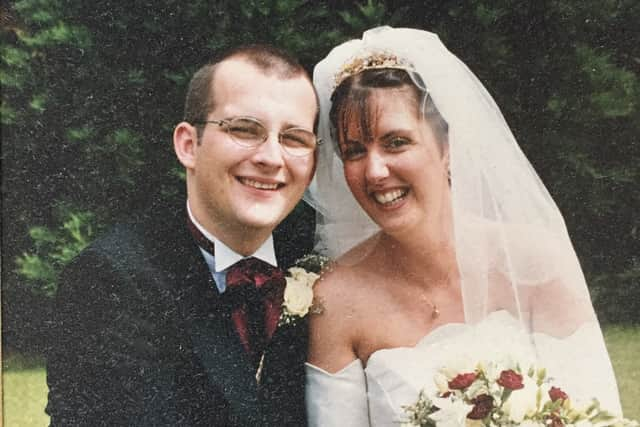 And last September his son Matthew died from a brain tumour at the age of just 18.
The double tragedy has had a massive impact on Gary and his family, including Matthew's twin brother Alex and Gary's younger son Mark.
Gary said: "Matthew was treated for a brain tumour when he was just three and we thought it was behind us.
"Unfortunately for our family, lightning struck twice when he was diagnosed with another, completely-unrelated brain tumour in 2020.
"Doctors were completely baffled why he should suffer twice, but despite the tough card he was dealt, Matthew carried on trying to achieve his ambitions and he found out he had passed his A-levels and got a university place just weeks before he died.
"Claire was first diagnosed in 2007. She had a mastectomy and then received chemotherapy, radiotherapy and other treatments. The cancer returned in 2012, but it was too extensive to treat.
"To lose both Matthew and Claire has obviously deeply affected our family."
Gary has since re-married a fellow paramedic who is also called Claire and now has a stepson, Samuel.
What is the Beetham Tower run organised by The Christie?
In total runners have to negotiate 798 steps as they ascend 171 metres to the top, where there are panoramic views across the city on a good day.
This year's tower run takes place on Sunday 10 April.
What has Gary said about taking part in the tower run?
Gary admitted that he is not a natural athlete but said he wanted to do something to support The Christie and its work treating and researching cancer.
He said; "I wanted to do something positive to try and help others. I'm not a runner, so this will be an experience, but I'll give it my best shot.
"The impact The Christie has had on me and my family has been profound. The work they do, day in day out, is outstanding, both in research into eradicating cancer and the care the staff give to patients and their families.
"The Christie charity supports both these vital areas and I've seen first-hand how that money goes towards helping patients in all kinds of ways."
What has The Christie said?
Josh Hughff, sporting events officer at The Christie charity, said: "We're so touched that Gary has chosen to support The Christie to celebrate the lives of Matthew and Claire.
"We know it will be very emotional for him to scale the heights with all the other people who are taking part. It is certain to be a great day at one of Manchester's most iconic landmarks.
"The tower run is a really great event and is much more challenging than people imagine. However, the views are well worth the effort and it is a great atmosphere on the day."