The number of patients left waiting over an hour in ambulances to get into Greater Manchester hospitals
Statistics show a varied picture across Greater Manchester - with nearly half of all patients left waiting 30 minutes or more at one hospital trust last week.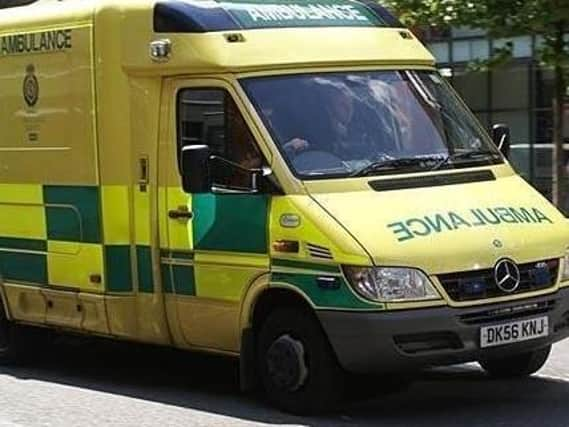 Latest NHS figures for ambulance handover times show the pressure services are under across the city-region.
NHS England has published data for the week ending 12 December indicates a varied picture across different hospital trusts.
At Tameside and Glossop Integrated NHS Care Foundation, 4.35% of patients waited over 30 minutes in an ambulance to be handed over into hospital care, but at Wrightington Wigan and Leigh (WWL) NHS Foundation Trust the figure was 47.03% in the same period.
And 105 patients at WWL found themselves delayed by over an hour - almost a quarter of the 445 people brought in by ambulance that week.
Royal College for Emergency Medicine vice president, Dr Ian Higginson warned of increases in ambulance handover delays as far back as August this year, pointing to staff and bed shortages as growing problems, adding: "Holding ambulances, corridor care, long stays – these are all unconscionable practices that cause harm to patients."
Health service bosses have reminded people to make sure they only call 999 for life-threatening emergencies, to help ease some of the pressures on the NHS.
What are the latest handover figures for all GM hospital trusts?
The ambulance handover data from NHS England is all for the week ending 12 December, 2021.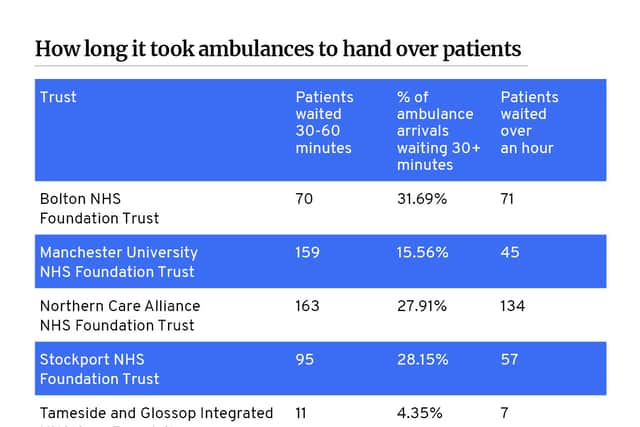 What has been said in response?
A North West Ambulance Service spokesperson said: "Hospital handovers are proving challenging while the NHS as a whole is under pressure. We are working closely with hospitals and the wider health systems to mitigate these as much as possible and have implemented a package of measures to review and minimise patient harm.
"Any patients waiting longer than we would like are monitored with the emergency department clinical team informed of any changes in their condition to prioritise them correctly."
A spokesperson for Wrightington, Wigan and Leigh Teaching Hospitals NHS Foundation Trust said: "Our teams are working incredibly hard to ensure that the sickest patients presenting to A&E are being seen first.
"Like many other hospitals in Greater Manchester, we continue to experience higher demand for our services, and we must ask people to consider their healthcare choices carefully and make sure they access the right care, in the right place and at the right time, so that our A&E department is available to the most vulnerable patients who need our urgent care the most.
"We must continue to ask people to consider alternatives if their condition is not serious or life-threatening, and to use the other services which are available to them, such as NHS 111, a GP, local pharmacy or by attending the nearest walk-in centre, such as the one at Leigh Infirmary."