Nearly 100 cases of scarlet fever have been reported in Greater Manchester over the last week - prompting health bosses to ask parents to be aware of symptoms in children which need medical treatment.
The infection, which mostly affects young children, has been spreading across the city-region - with 914 cases across the whole of the North West between September 2021 and March 202, the highest rate of any region in England.
The UK Health Security Agency (UKHSA) say that while infections are in line with what is expected at this time of year, there has been an increase compared to 2021 when more Covid measures were in place in schools and nurseries.
Parents have been told that they need to act quickly if their child gets scarlet fever and have been given some health advice.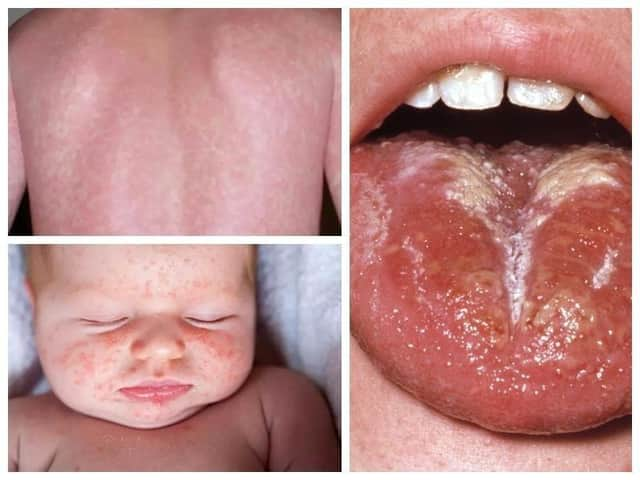 Where are the scarlet fever outbreaks in Greater Manchester?
Data from UKHSA for the week ending 3 April 2022 shows that there were 98 reported cases of scarlet fever in Greater Manchester, with 191 across the whole of the North West in the same period.
The largest number of local cases was in Stockport with 22, followed by Manchester with 16 and Wigan with 12.
In Oldham there were 11, Bolton and Trafford had 7, Tameside 6, Bury 3 and Rochdale 1.
Symptoms of scarlet fever
Scarlet fever is caused by a bacteria called group A streptococcus and is most common in young children.
Scarlet fever is usually a mild illness, but it is highly infectious, spread by coughing and sneezing.
The first signs of scarlet fever can be flu-like symptoms, including a high temperature, a sore throat and swollen neck glands.
A red rash appears 12 to 48 hours later. It looks looks like small, raised bumps and starts on the chest and tummy, then spreads. The rash makes the skin feel rough to touch, a bit like sandpaper.
What treatment is needed for scarlet fever?
If signs of scarlet fever are suspected, it is important to contact your local GP or NHS 111 as soon as possible.
It can then be easily treated with antibiotics to avoid complications like pneumonia and to stop the spread of the infection to others. Children or adults diagnosed with scarlet fever are advised to stay at home until at least 24 hours after the start of antibiotic treatment to avoid spreading the infection to others.
Dr Merav Kliner, Interim Regional Deputy Director - North West, at UKHSA, said: "It's not uncommon to see a rise in cases of scarlet fever at this time of year and we are continuing to monitor rates of infection. Scarlet fever is highly contagious but not usually serious and is easily treatable with antibiotics. It is important to take antibiotics, if prescribed by a GP, to minimise the risk of complications and spread to others.
"We are reminding parents to be aware of the symptoms of scarlet fever and to call their GP or NHS 111 for further advice or assessment if they think their child might have it. Symptoms to look out for include a fever, sore throat and a pinkish-red rash with sandpapery feel.
"To limit the spread of scarlet fever it is important to practice good hygiene by washing hands with warm water and soap, not sharing drinking glasses or utensils, and covering the nose and mouth when coughing or sneezing."