Sarah Everard one year on: shocking statistics reveal scale of violence against women in Greater Manchester
In the six months following Sarah Everard's murder last year, there were 10 rapes of women and girls per day in the city-region.
Watch more of our videos on Shots!
and live on Freeview channel 276
Visit Shots! now
Shocking statistics have revealed the scale of violence against women and girls in Greater Manchester one year on from the murder of Sarah Everard.
Home Office data analysed by our sister title NationalWorld shows there were more than 1,800 rapes of females recorded in the city-region by police in the six months after Ms Everard was raped and killed by serving Metropolitan Police officer Wayne Couzens in London.
That is the equivalent of just over 10 rapes of women or girls every day.
The likelihood of rapists ending up in the dock also remains shockingly low, with charges not being brought in 1,200 cases in that six-month period and the charge rate being just over 1 in 25.
What does the data show for Greater Manchester?
The data covers the six months between April and September 2021, the six months following Ms Everard's murder.
That is the equivalent of 10.3 rapes with a female victim every day in the city-region.
In the same time period GMP also recorded 1,759 sexual assaults on women or girls, some 9.6 per day.
Greater Manchester also had the highest rate of sexual assaults per 100,000 people of any police force's area in the country in those six months last year.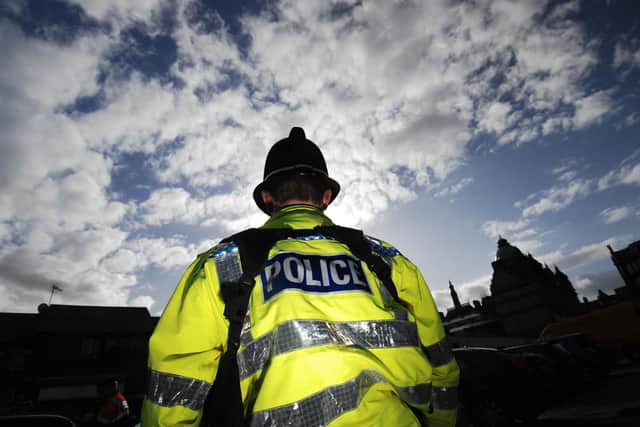 However, only a fraction of reported rape cases in the city-region result in someone being arrested or made to face a court.
The outcomes recorded for rape by GMP between April and September 2021 show charges or summons were only brought in 4.5% of cases, below the national average.
And 1,275 rapes recorded between April and September were closed without a charge or summons being brought by the end of the six-month period.
It should be noted that the outcomes data refers to cases where an outcome was reached in the six months under consideration. The actual incident could have happened some time before that and been subject to a lengthy police investigation.
The recorded crimes data counts individual offences, rather than unique victims.
What has been said about the data?
Between April and September 2021, 34,608 rape offences and 36,265 sexual assaults were recorded by police forces across the two nations, of which 31,194 (90%) and 30,631 (84%) respectively involved female victims, both adults and children.
That equates to 338 reports from female victims every day on average (170 rapes and 167 sexual assaults), and 49 from males. Legally, rape can only be committed by males.
Rape Crisis chief executive officer Jayne Butler said "the vast majority of rapes and sexual assaults never get reported".
Ms Butler said there "have been few real steps taken to tackle the misogyny that is widespread throughout British society and our state institutions", despite public outrage in the wake of the deaths of Sarah Everard, Sabina Nessa (killed in London in September 2021) and Bibaa Henry and Nicole Smallman (sisters stabbed to death in London in June 2020, with police officers later sharing selfies with their bodies).
"Violence against women and girls feels pervasive, inescapable and unavoidable," she continued.
"The opportunity for radical change is here. In the past year, report after report has been published detailing institutional failings and giving recommendations for what needs to change.
"Apologies and outrage have flowed, but progress has felt unbearably slow. It doesn't feel like everyday life and experience of women has changed at all."
A National Police Chiefs' Council spokesperson said police forces are committed to transforming the system and "turning the tables so violent men feel under threat from police action, not women and girls going about their lives"
"We recognise there is still much to do, and work is well underway to improve the policing response," they added.
"A new police framework launched in December 2021 set out action required from every police force to make women and girls safer.
"In this framework, there are three pillars looking at trust and confidence, relentless pursuit of perpetrators and creating safer spaces for women and girls."
The spokesperson also said challenging sexism within the police is a key part of the framework.
What has Greater Manchester Police said?
A GMP spokesperson said: "Rape and sexual assaults are some of the worst crimes that are committed and can change victims lives forever.
"Though these crimes are often some of the most challenging and complex to investigate - we are committed to bringing those responsible to justice and ensuring that the victim is at the heart of everything we do.
"The increase in reported rapes is a reflection of the increased confidence victims have in coming forward and reporting incidents, a greater public awareness of what constitutes rape and more robust crime recording practices.
"However, we are continuing to work with our partners and the Crown Prosecution Service to improve how we investigate these crimes and violence against women and girls is one of GMP's top priorities.
"We strive to do everything we can for survivors and continuously work alongside other organisations and partners to offer support and will continue to do so.
"Anyone who has been victim should speak to us. These figures show that survivors are building the confidence to report these crimes and we will listen and investigate."