A University of Salford student has made her television debut, starring in last weekend's episode of BBC One's Call the Midwife.
Actress Lucy Burrows, 19, played an expectant teenage mother, who had to face giving birth without the support of her parents. The role involved difficult and emotional scenes in which her character went into labour. The show is set in the sixties and follows a group of midwives working in London's East End.
The first year BA Media and Performance student had only just started her course in September when filming began. Unlike her character in the show, Lucy's parents were very supportive, driving her back and forth between Salford and Surrey where the filming took place, allowing her to balance shooting with studies.
Lucy said: "When I was on the set, I felt like I was in my element. Just being able to say that I was going to 'work' and that work involved doing something I had always wanted to do was an amazing feeling. I broke down in tears on the last day of shooting as I couldn't believe it was all over."
Lucy had travelled back home to Chelmsford to watch her television debut with her family. She says she was relieved to finally see it, having been sworn to secrecy about her role and what happens in the episode.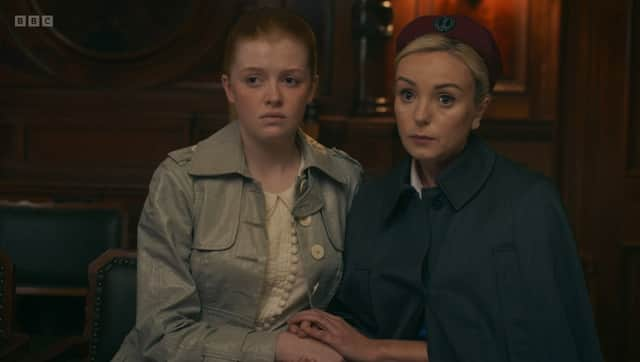 She said:"I had to keep it a secret for five months so I just felt a lot of relief to have it out there. It's a massive show and I've had so many lovely messages from people who have been so supportive of my performance.
"I had gone home before the weekend so I could watch it with my family. There was such a big build up to that day and my family were all bunched up together watching it. It took me about 15 minutes just to be able to relax and watch the show as a viewer and not just focus on my performance. I found the first few scenes very nerve-wracking."
While on set, Lucy also had support from series regular Helen George, who plays the glamorous yet kind-hearted midwife Trixie Franklin.
She said: "I learned so much, particularly from Helen who was so lovely and helped teach me on working with the camera. She told me to look at the eye closest to the camera when speaking to another cast member and I found that instantly helpful for me when it came to shooting."
Lucy has been performing on stage since the age of nine. While Call the Midwife may be her biggest role so far, she has also fronted an ad campaign for homelessness charity Centrepoint and worked as an extra on the Apple TV+ miniseries The Essex Serpent. Her experience on the hit BBC show has given her the confidence to pursue more acting roles, alongside her studies at the University of Salford.
She said: "I feel a lot better about myself now as a performer and I think it's shown others just how serious I am about this as a career."
Lucy follows in the footsteps of the university's famous acting alumni, including comedian Peter Kay and ex Dr Who star, Christopher Eccleston.