A Greater Manchester facility which teaches patients who have suffered kidney failure how to manage their health at home has been rated 'inadequate' and placed in special measures by the watchdog.
The service has also been handed two warning notices relating to the safe care and treatment of patients and governance.
This means immediate improvements must be made in those areas.
Baxter Healthcare said improvements were already being made and the CQC's highly-critical verdict was being taken seriously.
What did the CQC find at Baxter Education Centre Northwest?
The CQC visited the centre, a residential training facility where staff teach NHS patients how to manage their own peritoneal dialysis, in December last year.
Inspectors found dialysis fluid was not always being stored at the right temperature and people with specialist nutrition and hydration needs were not monitored by staff, potentially putting them at risk.
Other important details such as allergies, dietary requirements, next of kin and their resuscitation status details were not always recorded.
Overall, the watchdog found safety was not the priority it should have been.
The CQC also had significant concerns about the facility's leadership, finding those in charge did not always have the skills needed to run the service well.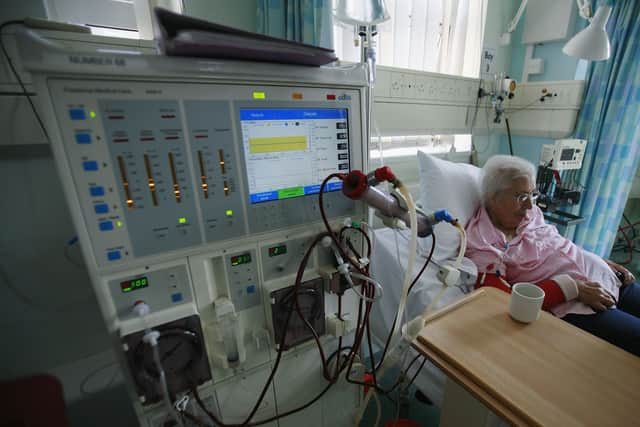 There was also a lack of effective governance structures to identify, assess and mitigate risks to the health, safety and welfare of those coming to the centre, the CQC found. It also described safeguarding processes as "not fit for purpose".
Managers were unable to monitor the effectiveness of the service and make sure staff were competent and there were not robust systems in place to prevent and control infections.
Inspectors found problems with treatments being given with the consent of the person involved.
More positively, the CQC found staff worked well together, treated patients with compassion and kindness and respected their privacy and dignity.
Patients did not have to wait too long for treatment either.
What has the CQC said?
Karen Knapton, the CQC's head of hospital inspection, said: "When we inspected Baxter Education Centre Northwest, we had serious concerns about patients not receiving the safe care and treatment they should be able to expect.
"The governance of the service concerned us; leaders didn't always have the skills and abilities to run the organisation well. Also, there was a lack of effective systems and processes in place to identify and mitigate risks to people using the service.
"We were not assured that incidents were being reported or that internal investigations were being carried out to identify areas for learning. Leaders need to ensure staff learn from incidents to prevent them from happening again.
"Additionally, the service wasn't gaining people's consent for treatment and complaints processes weren't adequate and must be improved.
"The service didn't always use systems and processes to safely record and store medicines and it was concerning that dialysis fluid wasn't always stored at the right temperature, which could have an impact on its effectiveness.
"People with specialist nutrition and hydration needs were not monitored by staff which could put them at serious risk. In addition, people's allergies, dietary requirements, next of kin and their resuscitation status details weren't always recorded which could also put them at risk.
"Staff didn't have the required level of safeguarding training and the service's safeguarding policy wasn't fit for purpose. This meant staff might not be able to recognise, and report patients if they are at risk of abuse.
"However, staff told us they felt supported, and we saw they were discreet and responsive when caring for patients. The service had picture guides available for patients who could not read, or whose first language was not English, and staff took time to interact with people and those close to them in a respectful and considerate way.
"Due to significant concerns found, we issued two warning notices to Baxter Education Centre Northwest to make sure immediate improvements are made to ensure patients are safe. We will continue to monitor the service closely and will return to check on progress."
What has the facility said?
Bess Featherstone, Baxter International communications lead for the UK and Ireland, said: "I want to make it very clear that patient safety and treatment quality are always Baxter's top priority.
"It's important to note that the Baxter Education Centre Northwest is an educational facility, not a care setting.
"It's where we provide training for independent patient to earn how to successfully manage at-home care.
"With this rating patients can still safely come to complete their training at our facility.
"A lot of the changes we have to make (and we have already begun to implement some of these changes) are policy-related, making sure we are making tweaks to meet these requirements the CQC has outlined.
"We are taking all of these findings extremely seriously and we will be re-inspected within six months by the CQC. We expect to have all the changes they have outlined made by then."