Thousands of bikers will take part in a spectacular mass motorway ride-out on Remembrance Sunday which will create the illusion of a giant red poppy around Manchester.
The Ring of Red M60 event attracts motorcycling enthusiasts from all over the country to pay their respects to the fallen on the day Britain commemorates those who have been killed in war. Last year more than 4,000 riders took part and the effect of all the machines and their scarlet-clad pilots should bring to mind the famous flower that has been associated with remembrance since John McCrae penned his famous poem In Flanders Fields about the soldiers of World War I.
The event also raises money for charity and this year the beneficiary will be Veterans into Logistics, a Greater Manchester organisation which helps get those who have served in the armed forces into new careers.
What is the Ring of Red M60 event and when and where is it taking place this year?
The Ring of Red M60 event is an annual mass motorcycle ride around the motorway which circles Manchester which takes place to pay tribute to those who have died in war. It takes place on Remembrance Sunday, which this year falls on 13 November.
All the bikers wear red and this, when viewed from above, means it looks like there is a giant red poppy around the city as all the bikers ride along the motorway. Last year's ride attracted some 4,400 motorcyclists and biking enthusiasts from around the country descend on Greater Manchester for what is an annual highlight on many people's calendars. Many bikers also carry out preparations to their machines so that they look their best in the striking display.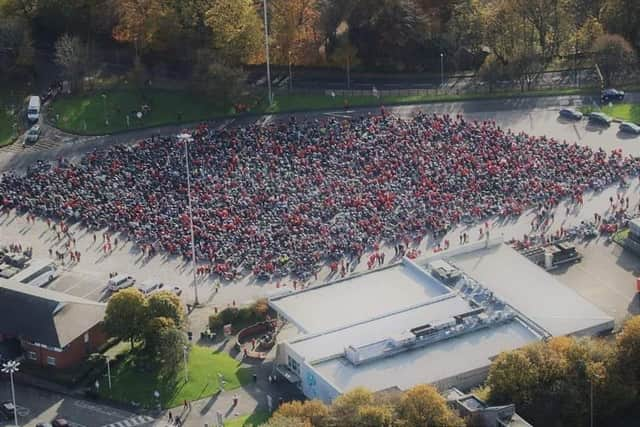 Participants in this year's Ring of Red M60 are meeting at the westbound Birch services, with bikers turning up from 9am. The ride-out begins at 1pm and makes its way along the motorway, ending at the eastbound Birch services. Bikers can then make their way to Rochdale Mayfield Rugby Club where there will be military vehicles on display, a Veterans into Logistics merchandise stall and refreshments.
Veterans into Logistics is this year's charity benefitting from the ride. Based in Heywood, it trains former military personnel to be HGV drivers. The ride-out will be led by the Veterans into Logistics truck which is dedicated to Jamie Doyle, who served 22 years in The Royal Artillery. but who was found dead at home less than 12 months after leaving the Army. The charity was formed in 2020, purchasing its first HGV training vehicle and naming it in memory of Jamie.
What has been said about this year's Ring of Red event?
Ring of Red M60 organiser Jeanette Kiely said: "It has become a hugely-popular physical show of support for the armed forces, both past and present.
"We are delighted to support Veterans into Logistics this year through donations from the sale of our merchandise, as every year we create Ring of Red M60 commemorative merchandise including T-shirts, flags and pin badges."
Veterans into Logistics COO, Major Ian Battersby, said: "We can't wait to be part of this incredible event on Remembrance Sunday. Our mission is to reduce poverty and homelessness for veterans and the vulnerable by training and supporting them into new careers as HGV drivers. We thank Ringof Red M60 for helping to highlight and support our work, with funds raised going towards training veterans into their new careers."