Product recall over Tayto pork scratchings amid salmonella concerns: here's which products are affected
It is understood production of the snacks has been halted at a factory in Westhoughton, Bolton.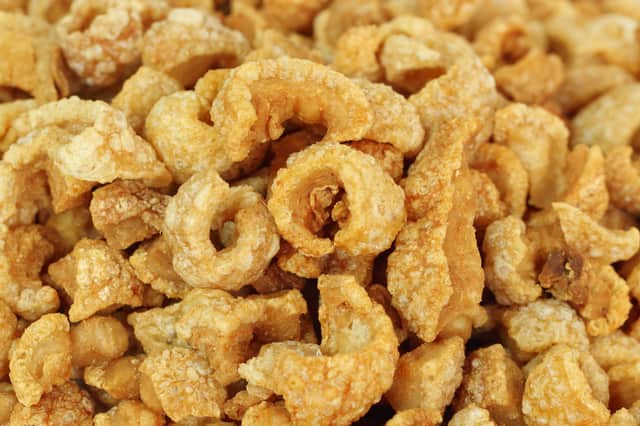 Crisp manufacturer the Tayto Group has issued a product recall for some of its snacks amid fears of salmonella contamination.
The Food Standards Agency has advised the public not to eat the products involved after identifying a link to 176 reported cases of salmonella poisoning across the UK between September 2020. Symptoms caused by salmonella typically include fever, diarrhoea, and abdominal cramps.
Public Health England says they knew of 12 people needing hospital treatment, according to a BBC report on Wednesday.
Dr Lesley Larkin, Surveillance Lead, Gastrointestinal Pathogens Unit at Public Health England, said:
"We have established a link between the 176 cases based on the analysis of data obtained through whole genome sequencing and epidemiological investigations.
"These investigations, together with those carried out by local authorities, have indicated the source of infection is pork scratchings produced by a single company in the UK. The Food Standards Agency has acted on these findings to mitigate any further risk to public health from the contaminated food."
Which products are affected?
The products on the recall notice are the following snacks which have a best-before date of all dates up to19 Februrary 2022.
- Mr Porky Original scratchings: 40 & 65g, 6x16.5g, and 5x16.5g sizes.
- Mr Porky Crisp Strips: 35g size.
- Mr Porky Crackles: 70g.
- Mr Porky Prime Cuts scratchings: 75g.
- Jay's Pork Scratchings: 60g.
- The Real Pork Crackling Company Pork Crunch: 30g and 70g.
What's the advice to shoppers?
The FSA statement says Tayto Group Ltd is recalling the above products as a precaution but consumers should not eat any of the snacks.
Point of sale notices will be displayed in all retail stores that have sold the specific products. Customers can return their purchases to shops for a refund.
Tayto is headquartered in Northern Ireland but has a number of sites across the UK, including in Bolton.
Tayto has been approached for comment.